I started out this year wondering if the white-hot intensity of the 2008 campaign could be even partially sustained, a daunting question for a $10-a-post blogger trying to hustle his way into a career in journalism. I'm ending it as a White House reporter and political correspondent for two national online publications, well on my way to going from Pinocchio to real boy. Along the way, I learned some lessons and saw some things that I'd like to share with you. This isn't a roundup of the (Best/Worst/Most) of 2009, but rather a peek behind the curtain.
My story starts in the middle of the year. It was mid-June, and I had just gone through a well-publicized breakup with Politics Daily. I was sitting in the front row of the White House press briefing room, tapping away on my laptop before the briefing, when Lynn Sweet approached me.
Lynn had been my stablemate at Politics Daily, and we had only met for the first time a few weeks earlier. During that initial meeting, she talked to me for almost an hour, dispensing frequent "razz the new guy" barbs and journalistic lessons learned. I considered it a profound honor to have my chops busted by a legend like Lynn Sweet, whose work I had enjoyed so much during the campaign. If someone has to tell you "Go cover City Hall, kid," you could do a lot worse.
Now, I was a guy without a job, in a field in which there were no jobs. If I had been in over my head with Politics Daily,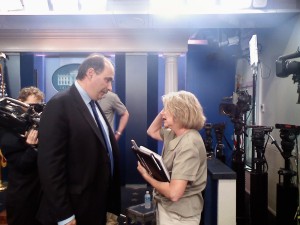 I was positively drowning now. With no day job to fall back on, I was covering the White House for my own revenue-free website. It was an extraordinarily stupid leap of faith, one which I made shakily.
Consequently, I was a little bit flummoxed when Lynn asked me "Who are you here with now, Tommy?"
I stammered a little. "Well, um, DailyDose.us, I'm here covering the briefing for m-my own website."
She seemed taken aback. "And they still let you in?"
At the time, the remark stung, as I was certain she was trying to rub my nose in it. Upon further reflection, though, the sting was the result of self-doubt. Who  could blame Lynn for being surprised? But as I sat there fuming, I did that thing where you think of what you should have said after the person has walked away. Politics Daily hadn't gotten me into the White House, I had gotten Politics Daily into the White House.
Whatever I felt about the job I was doing, or whether I felt like I belonged, I was there. If I was a fool to stay, I'd have been a bigger fool not to.

>>>NEXT: To the inauguration and beyond…
Have a tip we should know? tips@mediaite.com