Fox News Analyst On Petraeus Presidential Bid Story: 'I Know Now That Roger [Ailes] Was Joking'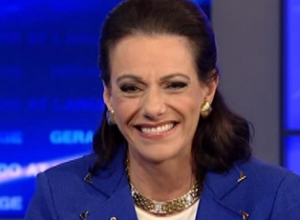 Fox News' KT McFarland made news earlier this week when the Washington Post reported on her conversation with David Petraeus — about Fox News head Roger Ailes wanting him to run for president. Ailes later said it was a "joke" of sorts, and McFarland penned her own piece, saying she was "bewildered" by the reaction to the story.
RELATED: Roger Ailes Reportedly Tried To Persuade David Petraeus To Run For President
The Post published the story along with audio they obtained of 20 minutes of their conversation. In it, the pair discussed Petraeus' presidential aspirations — or lack thereof.
"I know now that Roger was joking, but at the time, I wasn't sure," McFarland wrote. "Today, I'm bewildered by the reaction of the press to Bob Woodward's story in the Washington Post."
She went on:
Petraeus and I were having fun. Having just told me definitively that he wouldn't run, he suggested that maybe Ailes could run this non-existent campaign. It was not a serious conversation plotting General Petraeus' political future; it was the kind of idle speculation that happens in every campaign season. That's why they call it the silly season. I knew he was serious about not wanting to run, and he knew I wasn't serious in pressing it.

I realize conspiracy theorists have used this off-the-record interview to claim it was some plot to put Petraeus in the Oval Office. But it was little more than one defense analyst (me) trading some political gossip and laughs with one of the country's most important military leaders (Petraeus).
McFarland proposed a different question: "Why was an audiotape created of what was supposed to be an off-the-record interview with just four people in the room, which General Petraeus himself said several times was off the record?"
Read her full post at FoxNews.com.
Have a tip we should know? [email protected]