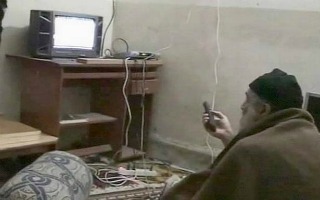 A hearty round of applause for Fox News: The network enjoys the laudable distinction of being Al Qaeda's least favorite news outlet.
Washington Post op-ed columnist David Ignatius included this little nugget in an article about Osama bin Laden's plot to assassinate President Barack Obama.
In his piece, Ignatius paints the picture of a terrorist organization fairly obsessed with its image and media presentation. In fact, Bin Laden had even enlisted the help of an American-born media adviser to help in creating buzz for the organization's celebration of the 10th anniversary of 9/11:
RELATED: New Yorker Looks Into Bin Laden Capture By Team Seal Six: Plan Was Always To Take His Life
Bin Laden and his aides hoped for big terrorist operations to commemorate the 10th anniversary of Sept. 11, 2001. They also had elaborate media plans. Adam Gadahn, a U.S.-born media adviser, even discussed in a message to his boss what would be the best television outlets for a bin Laden anniversary video. The piece revealed Al Qaeda terrorized organization

"It should be sent for example to ABC, CBS, NBC, and CNN and maybe PBS and VOA. As for Fox News let her die in her anger," Gadahn wrote. At another point, he said of the networks: "From a professional point of view, they are all on one level — except (Fox News) channel, which falls into the abyss as you know, and lacks objectivity, too."

What an unintended boost for Fox, which can now boast that it is al-Qaeda's least favorite network.
Congratulations, FNC.
Have a tip we should know? tips@mediaite.com