Fox Sports Apologizes For 'Welcome To Pac 12' Video That Only Featured Asian-American Students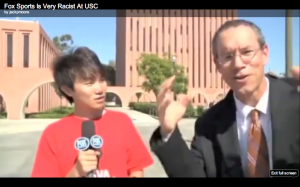 Fox Sports apologized today for what they are calling an "inappropriate" comedy video posted to their website. The video in question depicts "reporter" Bob Oschack (who is actually a comedian) approaching students on the University of Southern California campus and asking them to "give a big old American welcome" to the newly-dubbed Pac-12 members Colorado and Utah. The thing is, he only asks Asian students, many of whom english is not their first language. Rather than hilarity, an uncalled for mocking ensues. Inappropriate to say the least.
"Welcome to Colorado and Utah!" cheers one student enthusiastically, only to be corrected by Oschack that, "no, no, we are in Los Angeles." Several other students admit that they don't know much about football, or that they haven't heard of the Pac-12. All end up looking foreign in a country that loves its football.
Fox issued an apology and pulled the video from their site after Boulder city paper, the Daily Camera, reported its offensive tone.
Fox's apology:
"We sincerely apologize to President Nikias and the entire USC community for the production and posting of the video. The context was clearly inappropriate and the video was removed as soon as we became aware of it. We will review our editorial process to determine where the breakdown occurred, and we will take steps to ensure something like this never happens again."
As University of Colorado ethnic studies professor Daryl Maeda points out, "is demeaning to millions of Asian Americans who have put down deep roots in the United States, claim English as their language and root vigorously for their favorite sports teams." Fox might consider apologizing to more than just the USC community.
Watch the since-pulled video below:
(h/t Business Insider)
Have a tip we should know? tips@mediaite.com