Fox's Brit Hume Draws Fire for Dismissing Trump Accuser Who Works as a Porn Star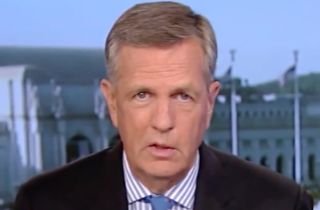 Fox News' Brit Hume is taking some heat on Saturday night, due what appears to be a dismissive tweet about the latest woman to accuse Donald Trump of sexually abusing her.
Earlier today, Jessica Drake appeared with Gloria Allred to make the charge that the 2016 GOP candidate treated her inappropriately during an encounter together. Drake is open about her work as an adult film actress, and she told reporters that about 10 years ago, Trump invited her to a hotel room where he started hugging and kissing her and other women without their consent.
Drake said that Trump ended up offering her $10,000 to come to his room again, even as she repeatedly told him no. Drake alleged that Trump made further attempts to pressure her into meeting with him, including an offer to fly on his jet when she tried to decline his advances by saying she had to head to Los Angeles.
Since Drake works as a pornographic actress, it was on that point that Hume questioned her account of being subjected to Trump's advances.
Woman who has sex on camera for $ says Trump propositioned her. "This is not acceptable behavior." Please. https://t.co/EpQ04PcuTO

— Brit Hume (@brithume) October 23, 2016
Unfortunately for Hume, this tweet didn't quite get the best reception ever:
1. She also says he sexually assaulted her

2. He was married at the time https://t.co/2CAfYRwnFw

— Judd Legum (@JuddLegum) October 23, 2016
Oh right of course. Cause you're not just being a dick https://t.co/EfgAKEZQzx

— john r stanton (@dcbigjohn) October 23, 2016
This guy. Because she does the work she does voluntarily, Hume thinks @realDonaldTrump can do whatever he feels like when it comes to her https://t.co/VDcMadRc6G

— Raju Narisetti (@raju) October 23, 2016
This is an idiotic take. https://t.co/bFrmt7VGNJ

— Erin Gloria Ryan (@morninggloria) October 23, 2016
Gross dismissal here of this woman's claim because she's a porn star. https://t.co/OOOFbLeZif

— andrew kaczynski (@KFILE) October 23, 2016
Trump has been in Playboy soft core porn. And he's running for president. https://t.co/UjF0AGIqMM

— stuart stevens (@stuartpstevens) October 23, 2016
Good grief, Hume, YOUR last 20 years at Fox have pretty much been constant on-camera mental masturbation. https://t.co/fVW9BLEeOJ

— Keith Olbermann (@KeithOlbermann) October 23, 2016
Hume ended up putting out a new tweet to explain what he meant with his first one:
2 be clear, don't think Jessica Drake's line of work makes it ok to kiss her w/o consent. But don't buy her claim of offense at proposition.

— Brit Hume (@brithume) October 23, 2016
Even so, Hume wound up arguing about his tweet even further with a back-and-forth with Daily Beast editor Jason Miller:
@justinjm1 What? I need evidence to be skeptical? Interesting view for someone who purports to be a journalist.

— Brit Hume (@brithume) October 23, 2016
@brithume no, of course not. I was asking what might change your mind, ie why is what she said insufficient?

— Justin Miller (@justinjm1) October 23, 2016
@brithume but that she was paid for consensual sex is irrelevant. It would be like saying a salesman can't be robbed

— Justin Miller (@justinjm1) October 23, 2016
@justinjm1 Trump's proposition was an offer of money for consensual sex. Surely you get that.

— Brit Hume (@brithume) October 23, 2016
@brithume he proposed it after she turned him down several times. Isn't that "unacceptable?"

— Justin Miller (@justinjm1) October 23, 2016
@justinjm1 She turned him down when he tried to have her for free.

— Brit Hume (@brithume) October 23, 2016
@brithume false. She says he asked "how much?" then offered her $10,000 https://t.co/W4kCkh2mu8

— Justin Miller (@justinjm1) October 23, 2016
@justinjm1 You said "she turned him down several times." That's what I was referring to. Pretty obvious.

— Brit Hume (@brithume) October 23, 2016
@brithume and she turned him down after he offered money, which invalidates the premise that she can't be offended b/c she had sex for money

— Justin Miller (@justinjm1) October 23, 2016
@justinjm1 Rejecting an offer is not the same as being offended by it. That should be obvious. You're wasting both our time now.

— Brit Hume (@brithume) October 23, 2016
[Image via screengrab]
— —
>> Follow Ken Meyer (@KenMeyer91) on Twitter
Have a tip we should know? tips@mediaite.com