Fox's Chris Wallace: Romney Advisor Who Told Press To 'Kiss My A**' Is A 'Hero'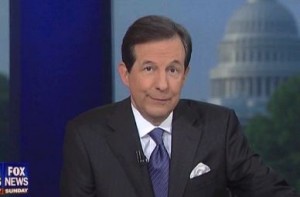 Appearing on Brian Kilmeade's radio program on Fox News Radio, Fox News Sunday host Chris Wallace criticized Republican presidential candidate Mitt Romney strongly for his being critical of other the British Olympics and the culture of Palestinians while abroad. However, when asked about the Romney's advisor in Poland who told the press to "kiss my a**," Wallace said that the Romney aide was a "hero."

RELATED: Romney Aide Explodes At Media In Poland: 'Kiss My A**'
Wallace appeared on Kilmeade's program, Kilmeade & Friends, on Thursday where he offered some critique of Romney's performance thus far as a Republican presidential candidate.
"I think that Romney has a problem," said Wallace. "He still doesn't' think –he's gotta get in his head that he's no longer an Olympic organizer. He's no longer a CEO. He is a potential next President of the United States and he's got to answer questions or make statements in that vein."
Wallace went on to call Romney's Olympic gaffe, in which he questioned if the U.K. was prepared for the Summer Games, a "stupid" moment for a presidential candidate. He also said that criticizing the culture of the Palestinian peoples was ill-advised.
However, Wallace also had criticisms for the way the press conducted itself over the course of Romney's trip overseas.
"The press got its knickers all in a twist because, you know, they didn't have access to him," said Wallace. He went on to say that the press screaming at Romney about his gaffes near an area that the Polish people regard with some reverence was a "tantrum."
"I thought the press guy from the Romney campaign who told them to 'shove it' and kiss my blank –you know what – he's a hero," said Wallace.
"Having said that, I think Romney should have held more availabilities," said Wallace. He thought Obama held more press availabilities in 2008 which helped the press to relate information rather than speculation.
Listen to the segment below via Fox News Radio:
h/t Raw Story
> >Follow Noah Rothman (@Noah_C_Rothman) on Twitter
Have a tip we should know? [email protected]