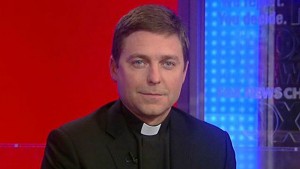 Noted Fox News analyst Father Jonathan Morris, who recently defended the Duggars because they were still better role models than most reality TV stars, claims that he was accosted by two men near New York City's gay pride parade on Sunday.
Morris briefly recounted the event real-time on Twitter. First, he told the tale to his followers, while being a "man of the cloth" and laying the blame on himself:
Walking down Broadway and 22nd St just now, I ran into gay marriage parade. Two men walked by and spat on me. Oh well… I deserve worse.

— Fr. Jonathan Morris (@fatherjonathan) June 28, 2015
He proceeded to explain the men's actions away via "past resentment" and the "excitement" generated by the day's festivities:
The two men who spat on me are probably very good man caught up in excitement and past resentment. Most in that parade would not do that.

— Fr. Jonathan Morris (@fatherjonathan) June 28, 2015
Whether or not this actually happened remains to be seen, but still — good on ol' Fr. Jonathan for not demonizing the accused and defending them against likely arguments to the contrary.
However, Morris never gets around to explaining why he was near the parade in the first place. A few hours later he tweeted about a parade float sponsored by the Episcopal Church, so he was either (a) at the actual parade before, during or after the alleged spitting, or (b) reviewing its aftermath:
The Episcopal Church sponsored float in gay parade with dancing man or woman (not sure) with short skirt and g-string. Something is wrong.

— Fr. Jonathan Morris (@fatherjonathan) June 29, 2015
[h/t The Blaze]
[Image via screengrab]
— —
>> Follow Andrew Husband (@AndrewHusband) on Twitter
Have a tip we should know? tips@mediaite.com