Fox's Gutfeld Knocks Trump Apologists: 'I'm Sick of Hearing People Defend This Stuff'
Gutfeld Knocks Trump Apologists: 'I'm Sick of Hearing People Defend This Stuff'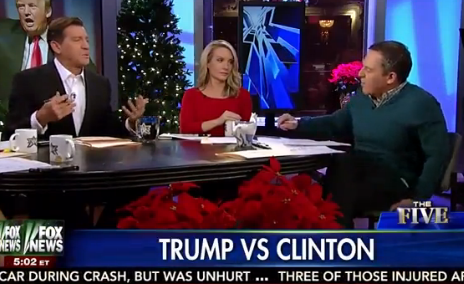 During a segment on Tuesday's The Five, Greg Gutfeld mocked co-host Eric Bolling for "Trumpsplaining" the Republican frontrunner's recent remarks about Hillary Clinton, telling the panel he's "sick of hearing people defend this stuff."
The hosts were discussing comments Donald Trump made about Clinton at a campaign rally Monday, where the Republican candidate insisted Clinton's bathroom break during the Democratic debate was "too disgusting" to talk about. Trump later said Clinton was "schlonged" by President Barack Obama during the 2008 election.
"I need somebody to Trumpslain this, because I don't understand it," Gutfeld told the panel.
Bolling jumped in to clarify where Trump's remarks were coming from, telling Gutfeld that when Clinton "makes something up as egregious as Donald Trump has now become ISIS' recruiting tool," Trump responds "like he does with everyone else."
"I just wanted to hear you defend this," Gutfeld said, smiling. "Because I've heard people defend him about making fun of a disability, making fun of John McCain, making fun of women, a woman's face, I wanted to hear somebody defend this as well. Because it never ends. No one will ever stop defending the crass stuff he says."
"By the way," he continued, "I haven't used that word since I was seven years old. I don't understand this. And I also, I don't understand the comment about the bathroom. And I'm sick of hearing people defend this stuff."
Gutfeld went on to point out the hypocrisy that Fox hosts are "not even allowed to use the word that he said" on air, but "somehow we're going to have him on our network all the time." He continued to knock "Trumpsplainers," even as Bolling tried to defend himself.
"Either that Greg, or it's reporting what's happened, that's all," Bolling said.
"That's not reporting, that's commentating," Gutfeld insisted.
"Fine, whatever," Bolling replied.
Watch the clip above, via Fox News.
[h/t MMfA]
[Image via screengrab]
—
>> Follow Elizabeth Preza on Twitter (@lizacisms)
Have a tip we should know? tips@mediaite.com