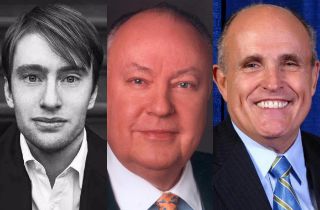 New York Magazine's Gabriel Sherman has somehow made a nice living out of being a self-proclaimed insider of everything Fox News, and particularly everything about its president, Roger Ailes.
Back in 2014, all of Sherman's efforts in building an army of anonymous sources came to a crescendo when he released the most-hyped book on any network president in history titled The Loudest Voice in the Room, an account of the supposedly-seedy underworld of Fox News and the allegedly questionable practices of Ailes. Competitor after competitor of the network gave him ample airtime… far more than most authors can ever dream of receiving. Publications far and wide seemingly were almost all in agreement before the book was even released, pom-poms in hand: This thing promises to be so devastating to Fox and the guy running it, it/he may never recover.
And then something happened on the way to the funeral: basically nobody outside of Sherman's friends, family and invisible friends (the aforementioned "sources") bothered to buy the book.
Sherman, of course, was about the worst salesman of said book this side of Willy Loman, stumbling and fumbling through basic inquiries during his book tour like someone else wrote it. And it showed on the sales front. Per Business Insider about a week after Loudest was released:
As of Jan. 19, according to Nielsen BookScan, "The Loudest Voice in the Room" sold only 3,000 books, a publishing industry source with knowledge of the numbers told Business Insider. For comparison, Robert Gates' "Duty: Memoirs of a Secretary at War," sold about 80,000 copies. (Both titles were released on Jan. 14, though Sherman's book's release date was moved up a week due to increased buzz.)…As of Monday afternoon, "Loudest Voice" ranked No. 421 in the Amazon Best Sellers rank.
And sales only got worse from there as the "increased buzz" was only about the gossipy, unsubstantiated BS Sherman attempted to pass off as a serious book by using over 400 (yup, 400) unnamed sources in compiling it. No matter… he was now New York media royalty just for making the attempt. And for whatever reason, the usual circles in the bubble still actually give credence to his increasingly-sensational scoops.
This week, we got another taste of fantastic fabrication on the part of Sherman. Note: If you're hopelessly biased against Fox News–and that applies to a decent chunk of you–don't bother with the following exercise. But if you're actually open-minded, objective and relatively sober, read on…
Here's what Sherman reported in New York Magazine this week, through an anonymous source (as always): a panicked Rudy Giuliani called Ailes to ask him to ask Megyn Kelly–a moderator in the Thursday GOP debate–to go easy on Donald Trump with her questioning of him at the event. Per Sherman:
According to a source close to the Trump campaign, Trump's friend Rudy Giuliani called the Fox chief the other day and asked Ailes to make sure Megyn Kelly doesn't go after Trump in her questioning.
Now…to actually believe this, you need to buy the following:
1) Sherman even has a source close to the Trump campaign, which didn't exist even two months ago.
2) That Giuliani is so worried that Donald freakin' Trump–who has been doing interviews for the better part of 30 years and has conducted dozens upon dozens on national outlets since announcing his candidacy–doesn't know how to defend himself from a tough question in a public forum. In a panic, Rudy therefore decided to ask the head of a major cable news network to persuade one of its moderators (and the network's future) in Kelly to alter questions during what could its highest-rated broadcast ever.
3) The open-ended nature of the allegation therefore leaves open the possibility that Ailes would consider actually going along with Rudy's request, and proceed to tell one of his moderators (forget the fact that seasoned pros like Chris Wallace and Bret Baier will also be asking Trump questions… Rudy's only concern is Kelly) to throw softballs… because that always makes for compelling TV.
4) And Kelly–who doesn't appear to take orders from anyone when it comes to what she should and should not ask–could carry out that order with no questions asked and open herself up to public ridicule in the process.
But besides that… it's totally believable, right?
This all harkens back to another story in another book that talked about Ailes via the once-credible Jonathan Alter. In it, Alter dedicates a chapter to peddling a tale around Ailes ordering that bulletproof glass be installed in his office to avoid…get ready…being assassinated by gay militants from outside on 48th Street. You can't make this stuff up. Check that: actually, it appears you can.
Giuliani, of course, denies the story about any conversation around Trump and Kelly to Ailes.
But some will still believe it because it came from Gabriel Sherman.
Failed author. Gossip columnist. And, in my opinion, the biggest clown in the room.
— —
Follow Joe Concha on Twitter @JoeConchaTV
Have a tip we should know? tips@mediaite.com