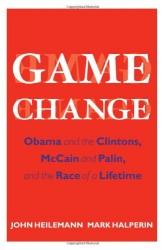 Game Change, the dishy, exhaustively researched, and occasionally overwritten new book on the 2008 election by John Heilemann and Mark Halperin, has dominated both political gossip and book publicity for the past week. It's produced a small political scandal, a New York magazine cover story, and innumerable blog chatter. The book has been number one on Amazon since the day before its release, and the print run has reportedly already been increased twice. Nevertheless, the book is difficult to acquire in some parts of the country. For example, in lower Manhattan, the first four bookstores I checked had all sold out all their copies. The Strand had placed twenty-nine back orders for it, while the Union Square Barnes and Noble—where the woman in front of me was also asking for it—had placed about one hundred. With this in mind, we at Mediaite want to give you everything you'll need to keep up with the chatter on Game Change, without your needing to read it.
We've divided the book into eight sections. Every few hours this long weekend, we'll post a new update that gives you everything really important in the new portion of the book. We'll tell you what happens, what important new information Heilemann and Halperin have uncovered, and the best scandalous claims that they include. We'll also include an example of their purple prose, and a particularly funny moment. Let's start with the first three chapters.
What Happens:
After a prologue during the night of the Iowa caucuses, the book flashes back to 2004 to mid-2006. Hillary Clinton is preparing her Presidential campaign, and Barack Obama, urged on by Senate elders, is beginning to think he might have a candidacy as well.
What's New:
Hillary seriously considered running for President in 2004, and didn't only when Chelsea expressed reservations about Hillary abandoning her pledge to serve a full Senate term. (pages 15-20)
Barack Obama was discussing the possibility of being President as far back as 1989, according to his brother-in-law. (page 26)
Schumer secretly urges Obama to run, despite admitting that he'll have to publicly support Hillary (page 37)
The New York Times in 2006 was going to report that the Clinton marriage was essentially a sham. Good press handling by the respective Clintons press secretaries Phillippe Reines and Jay Carson resulted in a much more tepid story by reporter Patrick Healy. (page 47)
What's Scandalous:
Mark Penn and Mandy Grunwald urged Hillary to join the race in 2004, offering to abandon Lieberman's campaign. Clinton aide and future campaign manager Patti Solis Doyle says to her about their actions, "You know how terribly unethical this is?" (pages 16-17)
Harry Reid's now infamous "Negro dialect" comment (page 36)
Mentions D.C. rumors that Bill Clinton was sleeping with Canadian MP and financier Belinda Stronach, wealthy divorcee Julie Tauber McMahon, and Gina Gershon, of Showgirls fame. (page 49)
Hillary's "war room within a war room" concludes that Bill is having a serious affair (pages 50-51)
Purple prose:
"And then it would hit them like a ton of bricks in their psychic solar plexus." (page 37)
Funny moment:
"After enduring an unceasing monologue by Senator Joe Biden during a committee hearing, Obama passed a note to Gibbs that read, "Shoot me now." (page 28)
We'll be back with Part 2 in a bit – I'm not gonna lie to you, folks, this thing really is a page turner. So if you do read it, make sure you don't have any other plans. It's like The Da Vinci Code for the political set, with only slightly less guilt.
Nick Rizzo is a political consultant and writer. He lives in Brooklyn. You can follow him at www.twitter.com/nickrizzo.
Have a tip we should know? tips@mediaite.com