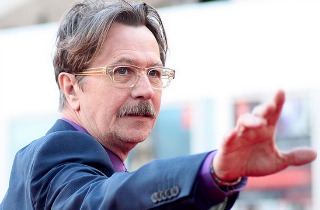 Actor Gary Oldman is more conservative, politically speaking, than most other people in Hollywood, and in a new interview with Playboy, he goes off on the political correctness that torpedoed both Mel Gibson and Alec Baldwin's careers, as well as the liberal double standard in Hollywood over who gets to make jokes about whom.
When asked to weigh in on what Gibson's dealt with over the years, Oldman said, "I just think political correctness is crap. That's what I think about it. I think it's like, take a fucking joke. Get over it." He said so many "fucking hypocrites" condemned Gibson, but they privately use words like he did.
Oldman also didn't begrudge Alec Baldwin for using the word "fag" against a paparazzo after his family had been harassed by people with cameras. But because of that one word, he said, Baldwin's been made into "an outcast, a leper."
Oldman also went on a bit of a rant about how certain people in Hollywood are allowed to get away with politically incorrect jokes but people like him really can't:
"Well, if I called Nancy Pelosi a cunt—and I'll go one better, a fucking useless cunt—I can't really say that. But Bill Maher and Jon Stewart can, and nobody's going to stop them from working because of it. Bill Maher could call someone a fag and get away with it. He said to Seth MacFarlane this year, 'I thought you were going to do the Oscars again. Instead they got a lesbian.' He can say something like that. Is that more or less offensive than Alec Baldwin saying to someone in the street, 'You fag'? I don't get it."
He also found it ridiculous that the culture in Hollywood last Oscar season was "if you didn't vote for 12 Years a Slave you were a racist."
Read the full Playboy interview, in which Oldman shares more on his personal politics and Hillary Clinton, here.
[h/t Salon]
[image via honeyfitz]
— —
Follow Josh Feldman on Twitter: @feldmaniac
Have a tip we should know? tips@mediaite.com
Josh Feldman - Senior Editor