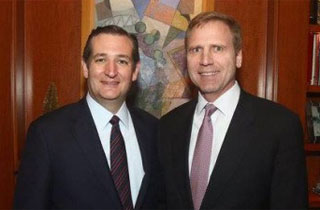 The gay New York City hoteliers who recently played host to Sen. Ted Cruz (R-TX) have their own controversy to deal with: Activists are calling for the boycott of their properties, including a gay hotel and establishments on Fire Island.
Ian Reisner and Mati Weiderpass (pictured with Cruz), two gay real estate moguls who run numerous vacation properties marketed towards the LGBT community, spoke with The New York Times yesterday about the reception they held for the presidential candidate. During that meeting, they mainly discussed foreign policy, while alluding to a possible shift (or private opinion) in Cruz's thoughts about gay marriage. Nevertheless, the fact that they held a reception (not a fundraiser) for Cruz, a staunch opponent to same-sex marriage, was enough to tick off the gay community.
Within hours, a Facebook page calling for the boycott of the Fire Island Pines Establishments and the Out NYC Hotel, all owned by Reisner and Weiderpass, gained more than 2,500 followers, its wall filled with angry messages blasting the two for selling out their ideals.
"Weiderpass, an out gay man, held a 'reception' this past weekend for Senator Cruz," said the first post on the page. "The question, among so many others, is, WHY???!!!"
"It was arranged to help Cruz get major donors to his campaign," wrote another. "Claiming it was anything else is pure bullshit. Pure. Bullshit."
Reiser and Weiderpass were forced to defend their party on Facebook, with Reisner pointing out that he'd hosted a Ready for Hillary fundraiser at Out NYC. "Senator Ted Cruz and I disagree strongly on the issue of gay marriage, but having an open dialogue with those who have differing political opinions is a part of what this country was founded on," he argued.
"I have been a major supporter of gay causes and gay charities for two decades. People on both sides of the aisle need to be able to communicate with one another even when they ideologically disagree," Weiderpass wrote, pointing to his past work in the repeal of Don't Ask, Don't Tell. "The fact that Senator Cruz accepted the invitation to my home was a step in the right direction towards him having a better understanding of who I am and what I believe in." He subsequently took that post private.
Late last night, Cruz reiterated that he was still very much anti-gay marriage, arguing that it was just a talk with some gay people, guys.
UPDATE — 5:12 p.m. ET: Cruz spokesman Rick Tyler told The Washington Examiner that they probably should have vetted the venue in advance, and that they wouldn't have had it there if they had done so: "I would say, knowing what we know now about the setting, I think we would have chosen a different venue."
[h/t The Washington Blade]
[Image via Mati Weiderpass/Facebook]
—
>> Follow Tina Nguyen (@Tina_Nguyen) on Twitter
Have a tip we should know? tips@mediaite.com