George Will Scolds GOP for SCOTUS Obstruction: You Want to Risk a Trump Nominee?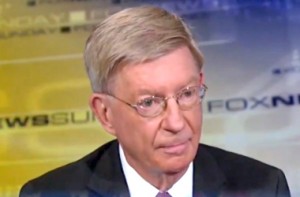 Conservative columnist George Will is taking a view contrarian to most on his side of the political aisle and scolding the GOP-run Senate for its "incoherent response" to President Obama's Supreme Court nomination.
And if you want an idea of where he's coming from, the title of his column is "Do Republicans really think Donald Trump will make a good Supreme Court choice?"
He first goes through all the reasons Republicans say blocking Merrick Garland (or anyone, for that matter) is important––"they have a right to be obdurate," they're showing as much contempt for President Obama as he does for the Constitution, the so-called "Biden Rule," and accusations of Democratic hypocrisy––before concluding that not a single one of those is compelling enough a reason to prevent even the very consideration of him, let alone a vote.
Will makes the case that there's plenty in Garland's judicial philosophy conservatives should be encouraged by, and whatever "reach into the future" Obama is hoping for is somewhat limited by Garland's age.
And then there's the Trump problem:
Republicans who vow to deny Garland a hearing and who pledge to support Donald Trump if he is their party's nominee are saying: Democracy somehow requires that this vacancy on a non-majoritarian institution must be filled only after voters have had their say through the election of the next president… There is every reason to think that Trump understands none of the issues pertinent to the Supreme Court's role in the American regime, and there is no reason to doubt that he would bring to the selection of justices what he brings to all matters — arrogance leavened by frivolousness.
Will concludes, "If Republicans really think that either their front-runner or the Democrats' would nominate someone superior to Garland, it would be amusing to hear them try to explain why they do."
[image via screengrab]
— —
Follow Josh Feldman on Twitter: @feldmaniac
Have a tip we should know? tips@mediaite.com
Josh Feldman - Senior Editor