Gingrich Accused of Failing to Disclose Campaign Contributions on Crossfire (UPDATED)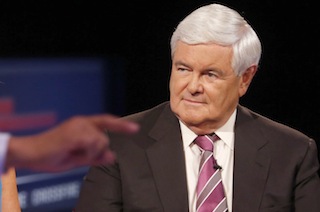 Just days after Stephanie Cutter was called out by FAIR for a conflict of interest involving the White House, Crossfire co-host Newt Gingrich is now under suspicion that he failed to disclose contributions to lawmakers who were guests or topics on the program.
Mother Jones reporters David Corn and Andy Kroll wrote Wednesday about the "dubious" American Legacy PAC, or ALPAC, that was founded by Gingrich in 2010 and for which he still serves as an honorary chair. Oddly, this PAC is raising eyebrows less for the money it spent, and more for the money it didn't. Via MoJo:
This PAC, founded in 2010 and fronted by Gingrich, bags a lot of money from conservative donors, but little of this cash reaches candidates. During the 2012 election cycle, the group took in $515,321—most of it from donors contributing less than $200—and it doled out a measly $9,000 to seven Republican candidates, including Ohio Senate candidate Josh Mandel, Virginia Senate candidate George Allen, and Gingrich himself.

In the current election cycle, according to federal disclosure reports and recent PAC emails, American Legacy PAC has raised $1.4 million, as of July 15. But so far it has given only $27,500, or 1 percent, of its haul to five candidates—among them Sens. Rand Paul (R-Ky.), Mike Lee (R-Utah), and Ted Cruz (R-Texas). American Legacy also transferred $500 to a committee created partly to retire the debt from Gingrich's failed 2012 presidential bid.
Of those few candidates, however, Paul has been a guest on Crossfire—in fact, on the very first episode—and Cruz has been discussed, without Gingrich disclosing that his PAC had contributed to either lawmaker. Gingrich sided with both men on the show, and has been loudly touting Paul's views on Syria lately.
This would appear to be a violation of the networks rules for the former Speaker, Media Matters said Thursday, as CNN Executive Vice President of Standards and Practices Rick Davis had told the liberal media watchdog that if Gingrich "is helping fund a candidate and that candidate's on the show, or being discussed on the show, of course he'll disclose that. Disclosure is important when it's relevant."
ALPAC has also given oodles of money to several Gingrich-connected vendors and direct mail companies. Whereas candidates received a combined $27,500 from the PAC, InfoCision, a conservative telemarketing group that has had numerous run-ins with regulators, received $1.25 million for expanding the PAC's contributor database.
"According to [R.C.] Hammond, the American Legacy spokesman, Gingrich makes no money for serving as the PAC's honorary chairman," Corn and Kroll wrote. "His circle of political operatives and consultants, on the other hand, are cashing in, as they hit up grassroots conservatives for money with grand promises that have so far gone unmet."
UPDATE 9/27: Media Matters spoke to Davis, who said the network is "clarifying" its policies:
We are clarifying the policy and making it clear Newt Gingrich is not in violation. The policy: If a Crossfire co-host has made a financial contribution to a politician who appears on the program or is the focus of the program, disclosure is not required during the show since the co-host's political support is obvious by his or her point of view expressed on the program.
Read the full Mother Jones piece here, and the full Media Matters piece here.
[h/t HuffPo]
[Image via CNN]
——
>> Follow Evan McMurry (@evanmcmurry) on Twitter
Have a tip we should know? tips@mediaite.com