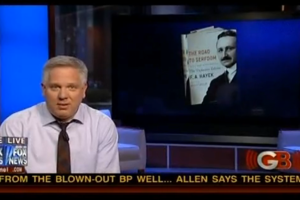 Between the early 2009 launch of his program and November of last year, Glenn Beck has gone from mere political commentator to one of the print business's biggest trendsetters. This week, he's done it again: 24 hours after dedicating an episode of his program to F. A. Hayek's The Road To Serfdom, the 1944 book skyrocketed to #1 on both Amazon.com's and Barnes and Noble's bestseller lists.
Beck showcased the book on Tuesday before a studio audience, explaining that knowing history is a necessity of an informed citizen. The Road to Serfdom lays out the progressive plan to grow government and how England and America can stop it. It fits on the traditional Beck narrative like a glove.



Before Beck dedicated an entire program to it, The Road to Serfdom was doing slightly better in the bestseller rankings than the average mid-20th century political science book, coming in at #295 on the Amazon list and #3,254 rank on Barnes and Noble's site. The "slightly better" is partly due to the fact that Tuesday's appearance wasn't the first on a Fox network for the book: libertarian Fox Business host John Stossel started wearing a ball and chain to work to advertise the book (or at least the catchphrase) long before it landed on Beck's radar. Now it's topping both lists, and shortly after the program was over, the book title soared to the top of Google's top search list.
The Road to Serfdom is yet another title that has gained amazing amounts of profit from Beck's endorsement alone, and another sign of the coming media takeover that may turn Beck into the next Oprah— a possibility explained in exhaustive detail here. Unlike Oprah, Beck is an author himself, and here's another interesting tidbit from the bestseller lists: The Overton Window, Beck's new political thriller, is #9 on the Amazon list and #10 on the Barnes and Noble list. Maybe he's saving the big push for next week (the book drops on June 15), but if he keeps promoting other people's books, he might find his actual work competing with his influence.
Have a tip we should know? tips@mediaite.com