Glenn Beck Suffering From Rare Neurological Illness That 'Made Me Look Crazy'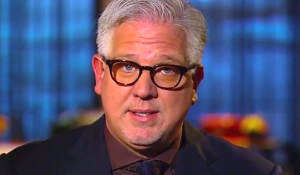 On Monday evening, Glenn Beck revealed to his audience at TheBlaze that for the last five years he has been suffering from a series of health issues that he said, "quite honestly has made me look crazy."
Beck said that for years doctors have been unable to tell him why his "hands, feet, arms and legs would feel like someone had just crushed them or set them on fire or pushed broken glass into my feet." At the same time, he was able to sleep just a couple hours a night without getting tired. "The doctors tell me that up until recently I haven't really had any real REM sleep in maybe as much as a decade," he said.
Later, he began losing large parts of his memory: names, faces, entire conversations. But his doctors told him this was normal for someone in his position, comparing him to former presidents and Winston Churchill in the process. But symptoms got worse, including "seizure-like" experiences, one of which he showed on video behind him.
"Most afternoons my hands will start to shake, or my hands and feet will curl up. When it gets real bad, my friends try to uncurl me," he said, adding that doctors have continued to be "baffled" by his condition.
At one point, doctors gave him a traumatic brain injury test and his results were in the bottom 10%. They predicted that within 5-10 years, he would barely be able to function. But when doctors told him to take a year off, he refused, instead choosing to keep building his new network in Dallas.
Ultimately, Beck was diagnosed with an unspecified auto-immune disorder and adrenal fatigue. He has been undergoing hormone therapy, "electric stimulation" and other treatments for the past several months and now he says, thanks to his "faith in God," he has reversed the illness and is on his way to getting better.
Watch video below, via TheBlaze:
[Photo via screengrab]
— —
>> Follow Matt Wilstein (@TheMattWilstein) on Twitter
Have a tip we should know? tips@mediaite.com