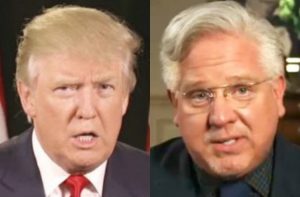 Glenn Beck is trying to move past his more controversial past and pushing for the kind of togetherness that was seriously lacking under President Obama.
Or, as he puts it, "Please be better than I was. Please learn from my mistakes."
Beck spoke with Ana Marie Cox for New York Times Magazine and argued that the way the left treated George W. Bush caused the right to stop listening to the media and go all in on "jingoism."
But when Obama won, he argued, too many conservatives were caught up in pointless outrage about things like flag pins.
And Beck is worried that things could get worse under President Donald Trump:
It's why I didn't vote for him. Because if it's going to get bad, he could bring out the worst in us. I think he could be one of the most dangerous presidents to ever come into the Oval Office. We have to watch him carefully, but also focus on each other and make this work.
Cox presses Beck in the interview about how "directly complicit" he personally has been in "the mainstreaming of a conspiratorial way of thinking about our politics." Beck didn't think that was particularly fair, said conspiracy talk has existed on both sides for a while, and declared, "You have to know what's true and what's not, and quite honestly that's where the media is supposed to come in and fill the gap."
You can read the full interview here.
[image via screengrab]
— —
Follow Josh Feldman on Twitter: @feldmaniac
Have a tip we should know? tips@mediaite.com
Josh Feldman - Senior Editor