Glenn Beck's Idea To Improve CNN And Their Debates: Let Anderson Cooper Host Everything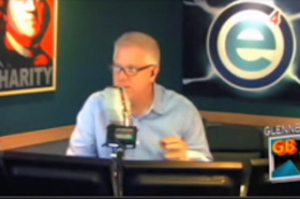 Glenn Beck and his radio crew weighed in on CNN's Republican primary debate and they enjoyed many laughs imitating host John King's awkward and annoying habit of clearing his throat every five seconds to speed up the candidate's responses. Beck was unsure why King got the job, especially when Beck believes CNN has someone on their roster who should be on their airwaves as much as possible.
Beck was impressed King got the debate to end on time, but otherwise had many complaints about the entire CNN presentation. Overall Beck thought "it was a good debate," but he argued much time was wasted hearing about the life stories of random questioners, seeing questions on a big video wall that were never actually posed to the candidates and listening to the politicians thank the military for their service and throw out cheap applause lines praising New Hampshire, the location of the debate.
Throughout the segment, Beck's sidekicks kept interrupting him, John King-style, and they were all humorously amazed that no one informed King of how truly irritating his throat clear was throughout the two hour broadcast. Beck concluded with a surprising endorsement for King's colleague:
"I believe Anderson Cooper was probably saying 'why is [King] hosting this . . . just put me on for nine straight hours please.' . . . That's the easiest thing you can do to fix that network. Just put Anderson on . . . You still won't beat [Bill] O'Reilly, but it will be a lot better."
With Beck's daily Fox News gig ending soon, might more praise for non-Fox personalities soon be on the horizon from Beck?
Listen to the clip from The Glenn Beck Program:

Have a tip we should know? [email protected]