Glenn Greenwald Slams Liberal Russia Hype and 'Partisan Hack' Rachel Maddow in New Profile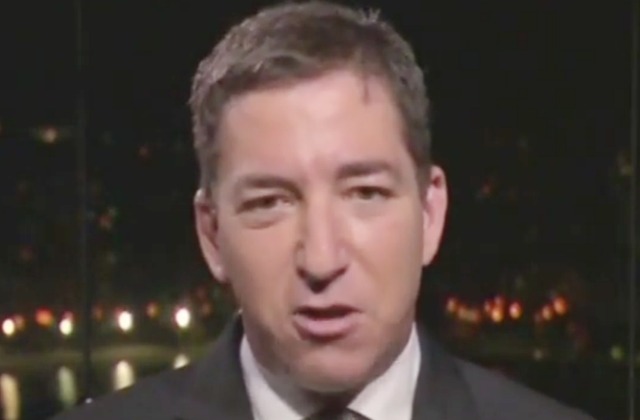 Glenn Greenwald and his skepticism on the Trump/Russia scandal is the subject of a big new profile in New York Magazine today headlined "Does This Man Know More Than Robert Mueller?"
The profile is not an overtly-sympathetic one, and Greenwald himself has––while praising the content––taken issue with some of the presentation:
Though I disagree with some of the opinions @svzwood inserts in this profile, it's largely a fair & illuminating discussion of the skepticism on Trump/Russia I share with many, as well as the post-2016 shifts in political coalitions: more significant than generally acknowledged https://t.co/CKh0UMk54u

— Glenn Greenwald (@ggreenwald) January 21, 2018
One last point on all this: this profile shows how easily editors can (& do) manipulate readers w/headlines they choose that have nothing to do with the text – as though Mueller ever said anything that contradicts what I believe or as though I ever implied I know more than him: pic.twitter.com/8pwc8kj98T

— Glenn Greenwald (@ggreenwald) January 21, 2018
He makes it clear that he's not particularly sold on the idea that the indictments so far are "huge":
"Have they been huge?" he pounces, answering his own question. "I mean, I guess they've been huge in the sense that Donald Trump's former campaign manager was indicted on multiple felony charges, right? That's inherently huge, but it's not particularly huge for the Russia story, because all the charges leveled against Manafort were unrelated to questions of collusion with the Russians." Fair enough, but Papadopoulos's arrest was in fact related to the question of collusion. Greenwald waves this away. "They had all these kind of losers who weren't even in the Trump campaign," he says. "You know, these charlatans who were constantly puffing up their résumés, who come from the shittiest schools and have no significant experience." He continues: "What happened this week, for me, is exactly what I've been expecting all along"…

When it comes to what the investigation was designed to focus on, Greenwald says he's still waiting for hard evidence that the Trump campaign aided Russian operatives in hacking the Clinton-campaign emails — or struck some other corrupt bargain. Absent that, he's not impressed. "Some Russians wanted to help Trump win the election, and certain people connected to the Trump campaign were receptive to receiving that help. Who the fuck cares about that?"
He's also concerned about how much President Trump dominates the political conversation at the expense of "the fundamental ways the American political and economic and cultural system are completely fucked for huge numbers of Americans who voted for Trump for that reason."
Cable news junkies may have noticed over the past year or so that Greenwald has made a few appearances on Fox News, and indeed his embrace by "opportunistic #MAGA partisans" is included in this profile.
Tucker Carlson even has a comment praising Greenwald as one of the "clearest thinkers" in the press while acknowledging, "My opinion of Glenn ten or 15 years ago was entirely negative."
Meanwhile, Greenwald has a few choice remarks for MSNBC's Rachel Maddow and some others on the left:
Thanks to this never-ending hot take, Greenwald has been excommunicated from the liberal salons that celebrated him in the Snowden era; anybody who questions the Russia consensus, he says, "becomes a blasphemer. Becomes a heretic. I think that's what they see me as." Greenwald is no longer invited on MSNBC, and he's portrayed in the Twitter fever swamp as a leading villain of the self-styled Resistance. "I used to be really good friends with Rachel Maddow," he says. "And I've seen her devolution from this really interesting, really smart, independent thinker into this utterly scripted, intellectually dishonest, partisan hack." His view of the liberal online media is equally charitable. "Think about one interesting, creative, like, intellectually novel thing that [Vox's] Matt Yglesias or Ezra Klein have said in like ten years," he says. "In general, they're just churning out Democratic Party agitprop every single day of the most superficial type." (Reached for comment, none of these people would respond to Greenwald.)
You can read the full profile here.
[image via screengrab]
— —
Follow Josh Feldman on Twitter: @feldmaniac
Have a tip we should know? tips@mediaite.com
Josh Feldman - Senior Editor