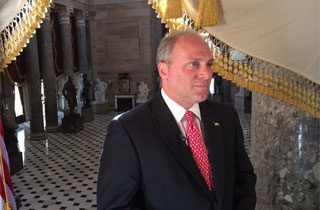 Majority Whip Steve Scalise (R-LA) was forced to confirm reports that he was once the keynote speaker at an international white supremacist convention. But it was totally by accident, he claims.
According to an extensive report from Louisiana political blogger Lamar White Jr., Scalise, then a Louisiana State Representative, gave a well-received keynote address at the 2002 meeting of the European-American Unity and Rights Organization (EURO). The organization is classified as a hate group by the Southern Poverty Law Center, and to prove that it's a hate group, let's just say it was founded by KKK Grand Wizard and neo-Nazi David Duke.
During this conference, which Duke could not attend because he was in prison, Scalise gave a speech on tax policy that attendees called the "highlight" of the convention. "Representative Scalise brought into sharp focus the dire circumstances pervasive in many important, under-funded needs of the community at the expense of graft within the Housing and Urban Development Fund, an apparent give-away to a selective group based on race," wrote one attendee on Stormfront.org.
Upon learning that Scalise would run for Louisiana's 1st Congressional district in 2004 (which he didn't win), that same attendee said that Scalise would "be a good alternative" to Duke. "Those that attended the EURO conference in New Orleans will recall that Scalise was a speaker, offering his support for issues that are of concern to us," he reminded the forum.
In a statement to the Washington Post, Scalise acknowledged that he attended the convention, but had no idea that he was speaking to a group of white supremacists. "He has never been affiliated with the abhorrent group in question," said spokeswoman Moira Bagley, adding that at the time, Scalise was stumping across the state to push tax reform. "The hate-fueled ignorance and intolerance that group projects is in stark contradiction to what Mr. Scalise believes and practices as a father, a husband, and a devoted Catholic." Other Scalise allies claim that he was "poorly staffed" during the time, which, frankly, isn't impossible.
Scalise was recently elected to replace former Whip Rep. Kevin McCarthy (R-CA), who is now GOP Majority Leader, in a leadership shakeup prompted by the defeat of former Majority Leader Eric Cantor.
White acknowledges that an organization as ambiguously named as EURO could have tricked Scalise: at the time, Duke "was attempting to rebrand his movement into something more palatable and less incendiary," and that the convention was run by not-so-famous white supremacists. But it's unlikely that the politically-savvy Scalise was ignorant about David Duke, or that Duke's name didn't come up during the convention, seeing as he's Louisiana's Most Famous Neo-Nazi.
Fun facts: Duke, who started his first Nazi group as a college student, served in the Louisiana House of Representatives, ran multiple presidential and Senate campaigns, and very nearly became Governor in 1991, despite his well-publicized beliefs about blacks, Jews, and the Holocaust. (During that campaign, he was caught selling copies of Mein Kampf from his legislative office, and tried to convince a woman that Dr. Josef Mengele was a scientific genius.)
[h/t The Washington Post]
[Image via Facebook]
—
>> Follow Tina Nguyen (@Tina_Nguyen) on Twitter
Have a tip we should know? tips@mediaite.com