GOP Senator Susan Collins Won't Vote for Trump: He's 'Unworthy of Being Our President'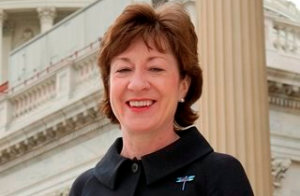 Another Republican Senator has come out to declare that they cannot bring themselves to support or vote for Donald Trump because of his temperament.
Maine's Susan Collins joins colleagues like Ben Sasse and Lindsey Graham in a Washington Post opinion piece tonight, saying, "It was his attacks directed at people who could not respond on an equal footing — either because they do not share his power or stature or because professional responsibility precluded them from engaging at such a level — that revealed Mr. Trump as unworthy of being our president."
Collins does say that Trump's temperament would be dangerous in a president because his "tendency to lash out when challenged further escalates the possibility of disputes spinning dangerously out of control."
But her main reasons for refusing to support or vote for Trump are: 1) his mocking of a disabled reporter, 2) his racially-charged attacks on a Hispanic judge, and 3) his attacks on the Khan family.
Collins, who is not up for reelection until 2020, said she hoped for that Trump pivot like so many others, but it never came:
I had hoped that we would see a "new" Donald Trump as a general-election candidate — one who would focus on jobs and the economy, tone down his rhetoric, develop more thoughtful policies and, yes, apologize for ill-tempered rants. But the unpleasant reality that I have had to accept is that there will be no "new" Donald Trump, just the same candidate who will slash and burn and trample anything and anyone he perceives as being in his way or an easy scapegoat. Regrettably, his essential character appears to be fixed, and he seems incapable of change or growth.
You can read her full column here.
[image via screengrab]
— —
Follow Josh Feldman on Twitter: @feldmaniac
Have a tip we should know? tips@mediaite.com
Josh Feldman - Senior Editor