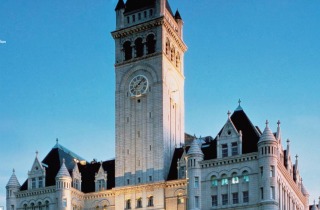 Republican Senator James Lankford released a lengthy report on wasteful government spending yesterday that included Donald Trump's upcoming D.C. hotel.
Yes, Trump is building a hotel at the site of the Old Post Office at 1100 Pennsylvania Avenue (insert your own "close but not quite" White House joke here), and on Trump's website, they explain, "After reviewing and vetting numerous proposals from the most prestigious hotel companies in the world, Trump Hotels was chosen by the U.S. General Services Administration (GSA) to be the developer of this most sought-after hotel redevelopment opportunity in the country."
And as you would expect, it's going to be a great luxurious hotel, the best ever, it's so great it'll make your head spin, etc.
Well, Lankford brought up the hotel––set to open next year––in Federal Fumbles: 100 Ways the Government Dropped the Ball yesterday.
The report [PDF] says that no struggling American families will "receive federal funding for their home repair projects," but companies renovating old buildings like Trump's is gets government money.
How much exactly? Well, Lankford explains, "American taxpayers will chip in $40 million to help cover the costs to 'restore this magnificent building to even well beyond its original grandeur.'"
And it's thanks to the National Historic Tax Credit, which Lankford argues it's time to get rid of so the government won't be able to give "hundreds of millions of dollars to luxury vacation destinations, major league baseball teams, and practically any other renovation project."
[h/t Daily Caller]
[image via Trump Hotel Collection]
— —
Follow Josh Feldman on Twitter: @feldmaniac
Have a tip we should know? [email protected]
Josh Feldman - Senior Editor