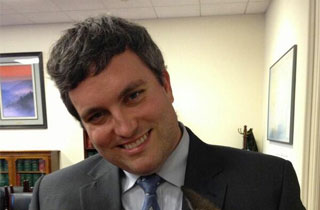 Senator Rob Portman (R-OH) recently announced that he would not run for president in 2016, which, we now realize, has now deprived us of this guy: his speechwriter Brett Talley, who moonlights as an award-winning horror novelist and a frickin' ghost hunter.
Talley, who spends his days writing policy speeches and his nights scaring people out of their minds, is the subject of the most amazing Washington Post profile in recent history. While he's good at separating his personal life from his work, Talley admitted that writing Portman's speeches paid the bills: "The guy who writes the speeches is not the person who is creating the underlying ideas or even creating the vision," he told the Post, before taking them on a GHOST HUNT:
Armed with just a voice recorder and flashlights, Talley's move was to find graves that seemed interesting and ask questions out loud in case a spirit wanted to answer. Even in his off hours he was trying to channel someone else's voice. But he seemed almost to be doing this with a wink and a smirk. He knew it was absurd.

"I tend to believe there's a good scientific explanation for the weird things people see and hear," he said. "But I'm open to the idea, and it's fun."
Surprisingly, Talley seems to be a psychologically normal human being: a top Romney campaign strategist recommended him to Portman, even after learning that Talley was one of his favorite horror novelists (""I'd read his stuff and was blown away. This guy is sort of a cult figure"), and Portman himself praised Talley's work, though he admitted that the speechwriter was trying to get him to work the word "hobgoblin" into a speech. "I'll have to do it for him at least once. But I speak pretty plainly," he conceded.
But as CNN's Chris Moody pointed out, the Portman offices seem to be a pretty spoooOOOooky place already:
Senator Rob Portman's speechwriter was a ghost detective.

WHY HASN'T HE INVESTIGATED HIS BOSS' HAUNTED HOTEL? http://t.co/QdGHE9fRsQ

— Chris Moody (@moody) December 8, 2014
Here is Talley with a wallaby.
#WallabyWednesday! pic.twitter.com/PeI1xhV6MN

— Brett Talley (@brettjtalley) May 22, 2013
[The Washington Post]
[Image via Brett Talley]
— —
>> Follow Tina Nguyen (@Tina_Nguyen) on Twitter
Have a tip we should know? tips@mediaite.com