Hannity to Listeners: Don't Vote for 'Despicable' Thad Cochran in General Election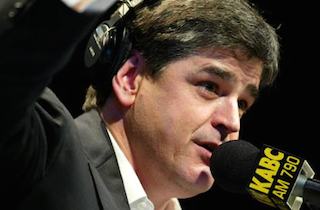 Sean Hannity expressed his disappointment in Chris McDaniel's GOP primary runoff loss to incumbent Sen. Thad Cochran (R-MS) on his Fox News show last night, but today he took things even further by saying he would not support the Republican in the general election this fall.
Calling Cochran a "RINO" (Republican In Name Only), Hannity said he has "no respect" for anyone who supported the candidate in Tuesday's election. He went on to call the Cochran camp's of use of Democrats to win the Republican primary and —"even worse" — their use of Democratic tactics "despicable."
RELATED: CNN's King: Will Cochran 'Forget' About Black Voters Who Helped Him Win Primary?
"If I was in Mississippi I would not and could not in good conscience vote for Thad Cochran after the way this campaign was run," he said. "And I know many of you are gonna say, 'but Hannity, that means we put the seat at risk for a Democrat.'"
"Well what is Thad Cochran?" he asked. "He ran as a Democrat. He ran as somebody who hates the Tea Party. He ran as somebody who hates conservatives."
"I would not support this man," Hannity concluded.
Cochran's efforts to court Mississippi's African-American Democratic base evidently did help him overtake McDaniel in the runoff, with increased turnout in the heavily black Mississippi Delta giving him the edge he needed.
The New York Times currently has Mississippi's Senate seat solidly in the red column for 2014, but if conservatives do abandon Cochran as Hannity suggests, perhaps that general election race could become competitive.
Listen to audio below, via The Sean Hannity Show:
[h/t Mofo Politics]
[Photo via KABC]
— —
>> Follow Matt Wilstein (@TheMattWilstein) on Twitter
Have a tip we should know? tips@mediaite.com