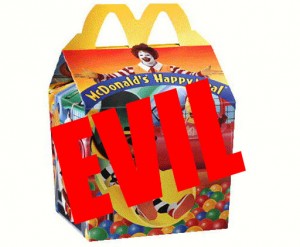 In the saddest "toys hidden in food" news since Cracker Jacks stopped including anything other than lame stickers, San Francisco has become the first major city in the United States to ban Happy Meal toys. Yes, the children of that great city are going to have to take a bus to get that special Puss in Boots figurine from Shrek 19. This is the effect of a new law passed by the Board of Supervisors which will go into action this December.
From Reuters:
"The law, like an ordinance passed earlier this year in nearby Santa Clara County, would require that restaurant kids' meals meet certain nutritional standards before they could be sold with toys.
Opponents of the law include the National Restaurant Association and McDonald's Corp, which used its now wildly popular Happy Meal to pioneer the use of free toys to market directly to children.
'We are extremely disappointed with today's decision. It's not what our customers want, nor is it something they asked for,' McDonald's spokeswoman Danya Proud said in a statement.
'Getting a toy with a kid's meal is just one part of a fun, family experience at McDonald's,' Proud said."
Well, this is just sad. Sure, childhood obesity is an epidemic, but Happy Meal toys are such an important part of a young child's life. Not to mention the fact that the gender specific prizes make forcing heteronormative ideals on your children an absolute breeze! The most offensive thing about this law though is the idea of the government totally disrupting the marketplace. What child is going to want to go to McDonalds now? You just know that the big California organic vegan food bar chains are going to sign a deal with Disney and totally dominate the kiddie market.
A sad, sad day indeed.
(h/t Drudge Report)
Have a tip we should know? tips@mediaite.com