He Will 'Blow Up Democracy in Any Way He Can': Tony Schwartz Frets Over Trump Losing Election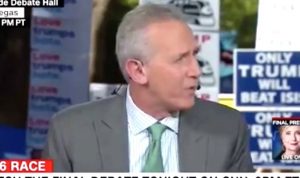 Tony Schwartz has become a prominent figure on the campaign trail this year because Donald Trump, with whom he co-wrote The Art of the Deal, is the GOP's nominee. Schwartz came out swinging against Trump, saying their book was "full of falsehoods" about the mogul's successes and that Trump wants to be a dictator, not a President.
Today, CNN's Brooke Baldwin asked him what he sees happening if Trump loses.
He was very clear that he does believe Trump will lose and it is not a matter of "if." As far as what the nominee will actually do if he loses, Schwartz said that he thinks "the prospect of him losing is almost more terrifying [than the prospect of him winning]."
"His need to build back his own sense of self-worth will make him willing to blow up democracy in any way that he can, meaning he'll dispute the election, he'll try to get these folks — some of these folks who are out here — he'll try to get these folks to react in potentially violent ways," he said. "I think in a polarized — a deeply polarized — country, it's a scary, scary prospect."
When Schwartz said that the day Trump loses, the next phase of his "trouble-making" will begin, political commentator Lanhee Chen suggested that Trump won't go too far off the deep end because his brand will still be at stake.
"The brand and Donald Trump are dead," Schwartz said. "The brand is already dead. He's already getting way fewer people buying the products he sells and the brand will live with a small percentage."
[image via screengrab]
Have a tip we should know? tips@mediaite.com