Head Of Atheist Group Says Obama Shouldn't Have Publicly Prayed For Shooting Victims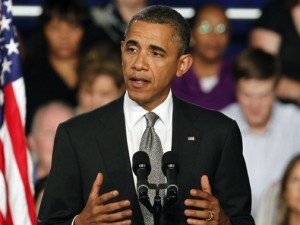 At the end of his speech today reacting to the shooting in Colorado, President Obama said, "May the Lord bring them comfort and healing in hard days to come." The head of the Center for Secular Humanism, however, told the Washington Examiner that Obama's remarks were "unfortunate" and despite the "emotional context," he should not be delivering "a message of exclusion."


RELATED: President Obama Addresses Tragic Aurora Movie Theater Shooting
Tom Flynn sympathized with why Obama would want to say what he did today, but argued that he can't "bend the rules" no matter what the circumstance.
"Even in a situation like this, [when] he leads a public prayer to a deity that it pretty recognizably the Christian God, much as you can understand the emotional context of it, he's still sending to some degree a message of exclusion to other religions who don't call their god "Lord" and to non-religious Americans."

"By the very act of praying, that's a message of exclusion," he continued. "If I'm a public official, I think I'm going to look around in the morning and conclude that, 'hey, this religion thing is just too hot to handle, I should stay away from it in my official capacity.'"
There is an unbelievably clear difference between allowing religion to influence public policy and a politician bringing up their personal faith in the context of a speech. I hardly think a politician saying "Our prayers are with the victims' families" is a huge violation of the separation of church and state.
I'm an atheist, and I agree we should definitely have a dialogue on the increasing role of religion in contemporary politics, but all Obama did was offer a personal prayer to the victims' families. People have different ways of coping with tragedy, and religious people turn to their faith to find solace and comfort. Even if you personally don't believe in God, when a religious person tells you their prayers are with you, it's meant to be a kind gesture showing you that they want to make sure that you are okay. That's all the president did. No more, no less.
—–
Follow Josh Feldman on Twitter: @feldmaniac
Have a tip we should know? tips@mediaite.com
Josh Feldman - Senior Editor