Here's What It Was Like to Be Inside the Press Pen at Trump's Anti-Hillary Speech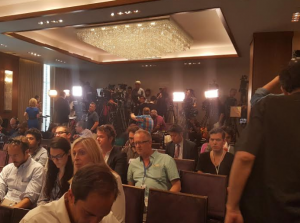 Have you ever wondered what the press pen is like at a big campaign event? Maybe you've been to a rally or speech as a member of the public, and maybe you've even been to a protest, or something more unconventional, but being in the press area is an entirely different beast altogether.
What's so special about it? Well, as the media that covers the media, we wanted to show you and tell you, so we headed out to the Donald Trump speech at Trump Soho Wednesday morning. Here's how the whole process works.
First of all, a reporter can't just get up and go to an event like this. Remember how Trump revoked the privileges of the Washington Post? What he took away was their opportunity to have correspondents credentialed. No matter the event or how many times a person has gone to speeches or rallies as a member of the press before, we have to submit our information to the campaign each time, and wait to be credentialed.
For this event, I submitted my form yesterday morning, and found out I was approved last night. Sometimes, there is a much shorter turn-around time between learning you're in and the actual event. One reporter at the event today, who declined to be named, claimed that she only found out she was going this morning. Another was observed calling her editor from the check-in desk because her name wasn't on the list, even though she had gotten the credentialing email. 
Provided the credentialing goes smoothly, next comes an email containing a schedule and instructions. Everything camera operators need to know is included, as are specific times that the doors will be opened and closed. We just show up at the prescribed time, check in with the attendants, and then go through security. After that, it comes time to sit in a big room surrounded by other people who do the exact same thing. Sometimes, this can feel competitive. After all, everyone is there to tell the story of what's happening at the front of the room. What will set a journalist apart from everyone else around them is how much better their writing is, and how fast they can get it to their respective editors.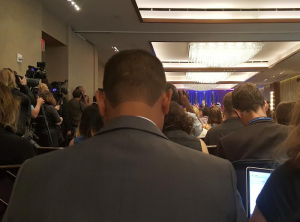 At Trump events, though, the atmosphere is a little different. There is still competition, but there is also solidarity born of Trump's animosity toward journalists, plus a unifying interest in simply seeing what is about to happen. At today's event, there were teleprompters, so there was less of a chance of an off-script rant, but there was still an anxious ambiance as we waited to see if one would come anyway.
One reporter who usually covers Hillary Clinton for the Guardian, Lauren Gambino, explained that another way Trump events differ from standard political speeches is that he actually answers questions, whereas a number of his contemporaries will not. "You get a genuine response and a feeling he maybe hasn't prepared the answer," she said.
Conversely, that can also be what makes Trump's events uncomfortable at times. She went on, "There's obviously a more combative relationship with the press and at some times, his speech can take on the feeling of a show and you're getting no details."
You can tell a lot from what people are wearing, and at this event, it's a mixed bag. You see women in suits and heels next to people in jeans, and men with fresh cuts next to women in second-day ponytails. I saw a woman in a denim skirt and sneakers today. It's always hard to discern whether someone is dressed down due to inexperience, or due to so much experience that they're now jaded about the whole thing. It's safest to pick a plain dress and pack a cardigan, or wear some black pants and a nice shirt.
The jadedness doesn't just come out in clothing choices, of course. Plenty of the press have personal opinions on the Trump phenomenon that don't make it into their impartial reports, though there are occasionally audible groans as the reports are being written in real time.
When asked what the best part of a Trump event is, one NBC reporter hesitated before saying, "I don't know that I have a favorite thing…" He looked around before adding, "I would probably say that it's a spectacle."
It was easier to identify a least favorite thing. He answered immediately that the worst part is not having any control or access at an event like this because the first ten rows are sectioned off and not for the correspondents. Add to that the very specific list of rules for the media and you start chipping away at the freedom of the press, in his opinion.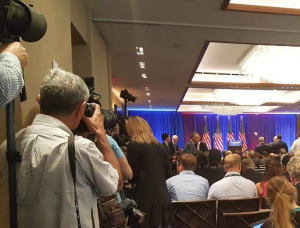 "The types of events that have more access are when candidates interact with the public. At a diner or a small business. Then you can see how real people interact. Rather than being in a convention hall or office."
There is still a level of interaction at something this structured, however. It happens after a candidate — especially Trump — says something interesting or shocking. These are not rallies, so there is little clapping or commotion, but the response to a particularly sound-bitey sentence is met with the immediate tap-tap-tapping of fingers on keyboards and the click-click-clicking of camera shutters. Beyond that, the press stays quiet and impartial, but the special guests at the front of the room cheer loudly. They can be ticket-holders, friends, family, and even plants, depending on who is speaking.
Today, the fans who joined the press in the relatively small conference room at the Trump Soho were vocal and eager to cheer, especially when the mogul disparaged Clinton, as he hinted he would be doing after she slammed him yesterday. They stood up out of their seats when he said he wanted to repeal Obamacare. Meanwhile, when Trump awkwardly said the word "Americans" four times in a row for no reason, a smattering of reporters laughed out loud.
Moreover, the interaction between the members of the press is its own phenomenon. After attending election events repeatedly for months, there is a sense of familiarity and friendship among those who are still competing to churn out the best story on the topic at hand. There are handshakes and hugs that vary in their levels of frenemy-esque fakeness, and compliments yelled across the room ahead of the action that are as authentic as any you'd hear in an office.
Ultimately, the lion's share of the most interesting things happen prior to the campaigning. Networking, friend-making, calculated ignoring, general joking, and communal coping are a part of what makes being in a press section so much fun.  Well, all of that and the fact that everyone in the room has a deep interest in current events, and while some people might find spending a few hours sitting in a chair and using agonizingly slow Wi-Fi just to watch a 35-minute speech boring, journalists choose to do it.
As Gambino put it, "You sort of have a front-row seat to history and that sounds lame and cheesy but it's true. You are watching the craziest election in modern history."
Here are larger versions of the photos in this story, plus a few bonus shots:
[imageviewer id=2563]
[All photos via Lindsey Ellefson]
For more from Lindsey, follow her on Twitter or Facebook.
This is an opinion piece. The views expressed in this article are those of just the author.