Hillary Rips GOP on Benghazi: I Won't Play Politics on 'Backs of Dead Americans'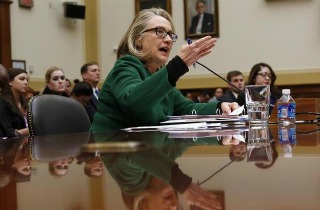 "I will not be a part of a political slugfest on the backs of dead Americans," read an excerpt from former Secretary of State Hillary Clinton's book which deals with the response to the Benghazi attack. In that excerpt from the book Hard Choices, released exclusively to Politico, Clinton attacked Republicans for playing politics with the investigation into the attack .
"It's just plain wrong, and it's unworthy of our great country," Clinton said of what she called the "political slugfest" that the investigation has become. "Those who insist on politicizing the tragedy will have to do so without me."
While Clinton took responsibility for the attack and its aftermath, she scolded the press for propagating a "regrettable amount of misinformation, speculation, and flat-out deceit."
RELATED: Fox's Greta Van Susteren and Bret Baier Snag Interview with Hillary Clinton
She added that there is no reason for the continued investigation. "Many of these same people are a broken record about unanswered question," Clinton wrote. "But there is a difference between unanswered questions and unlistened to answers."
"There were scores of attackers that night, almost certainly with differing motives," she writes. "It is inaccurate to state that every single one of them was influenced by this hateful video. It is equally inaccurate to state that none of them were. Both assertions defy not only the evidence but logic as well."
Regarding the investigation into how the attack originally came to be blamed on a video, Clinton defended former United Nations Amb. Susan Rice. "Susan stated what the intelligence community believed, rightly or wrongly, at the time," Clinton said.
"That was the best she or anyone could do. Every step of the way, whenever something new was learned, it was quickly shared with Congress and the American people. There is a difference between getting something wrong, and committing wrong. A big difference that some have blurred to the point of casting those who made a mistake as intentionally deceitful."
Clinton reportedly tapped former National Security Council spokesman Tommy Vietor to aid in the media response operation to questions relating to the revelations in the book.
[Image via Kevin Lamarque/Reuters]
— —
>> Follow Noah Rothman (@NoahCRothman) on Twitter
Have a tip we should know? tips@mediaite.com