Holy Roller: Jack Griffin Out As Chief Executive Of Time Inc. After Just Five Months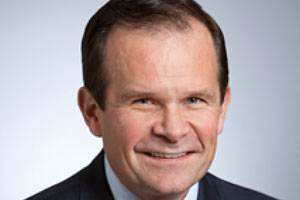 Jack Griffin is leaving his post as chief executive of Time Inc.'s magazine division after roughly six months on the job. According to an email sent out by Time Warner exec Jeffrey Bewkes, Griffin's management style "did not mesh" with the atmosphere at Time Inc. and its parent company, Time Warner.
Some of Griffin's decisions and suggestions which evidently did not sit well with others at the company included bringing in outside consultants, insisting that all Time Inc. magazines carry his name on their respective mastheads, and repeatedly referring to his Roman Catholic faith during meetings, even comparing Time Inc. to the Vatican.
Griffin has not commented on his departure, but a source close to him told The New York Times, anonymously, that his exit is not as neat and simple as Bewkes and co. would make it out to be:
Jack's exit had nothing to do with management style and everything to do with the question of whether Time is manageable so long as entrenched interests fiercely resist the change necessary to position the organization for the future. Fortunately, the team Jack leaves behind is first rate and he wishes them all the best of success.
The departure is seen by some analysts as a stumbling block for Time Inc., which has to contend with trying to attract readers and advertisers alike as competition from other digital publishers grows.
Here is Bewkes' complete memo, via Media Memo's All Things Digital:
To: Time Inc. Colleagues

From: Jeff Bewkes

Subject: Jack Griffin

I regret to inform you that Jack Griffin is leaving his position as Chairman and CEO of Time Inc. Although Jack is an extremely accomplished executive, I concluded that his leadership style and approach did not mesh with Time Inc. and Time Warner.

Until a permanent successor is identified, Time Inc. will be led by an experienced interim management committee, reporting directly to me, composed of Howard Averill, Maurice Edelson and John Huey. You will be hearing from them within the next several days regarding their plans during this transitional period.

This company and its executive team have made many important advances in the last few years. Throughout, you have distinguished yourselves with professionalism and dedication to your craft, and as a result of that hard work the company's momentum has been restored.

With our deep and talented pool of employees, I'm confident that during this transitional period Time Inc. will continue to grow and prosper, and that you will continue the brilliant work that has defined our company.

Jeff
Have a tip we should know? tips@mediaite.com