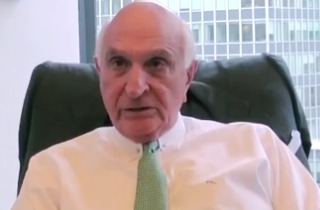 Back in March, Home Depot founder Ken Langone compared inequality rhetoric in the U.S. to the rise of Nazi Germany. Shortly afterwards, he issued an apology. But now he doesn't think he should have had to, continuing to argue now that there was nothing wrong with his central point.
See, Langone was trying to make a point about democratic nations, he now says. He told Capital New York, "I pointed to the election in Germany in 1933 that brought Hitler to power… He came to power through a totally democratic process. So I simply said that just because we're a democracy that doesn't mean we can't do bad things!"
Just for reference, here's the quote that got him in trouble in the first place, in reference to populist rhetoric about income inequality.
"I hope it's not working," Ken Langone, the billionaire co-founder of Home Depot and major GOP donor, said of populist political appeals. "Because if you go back to 1933, with different words, this is what Hitler was saying in Germany. You don't survive as a society if you encourage and thrive on envy or jealousy."
Langone's point, he now says, was simply that when you pit brother against brother like that, sometimes you end up with bad results, like the election that brought Adolf Hitler and the Nazis to power. But he was not comparing any person alive today to the Nazis.
He insists, "I was only saying that we are, thank God, a democracy, and when our leaders pit group against group, it's not constructive."
[h/t The Wire]
[image via screengrab]
— —
Follow Josh Feldman on Twitter: @feldmaniac
Have a tip we should know? tips@mediaite.com
Josh Feldman - Senior Editor