Hot Romance Novel Models Self-Quarantine After Sitting Next to Dallas Ebola Nurse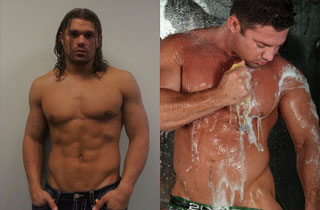 Ebola fear has claimed its sexiest victims: Two male strippers and romance novel-cover models, who sat close to Amber Vinson, the Dallas nurse who stoked fears after the CDC cleared her to take a flight despite a mild fever.
Axl Goode and Taylor Cole, who work as models for Ellora's Cave, were sitting within three feet of Vinson, who treated Thomas Duncan before he died of ebola, and who eventually came down with ebola herself. According to the CDC, being within three feet of an individual displaying ebola symptoms is a low-risk exposure.
Despite the proximity of sexiness to ebola — the time-tested way to get people interested in one's plight — the CDC apparently took some sweet time to respond to them. From TMZ:
The buffed out strippers were on hold for 81 minutes before they finally got an official on the line. After that, they were placed on a 21 day voluntary quarantine.
Unfortunately, touching someone's firm, warm skin is the quickest way to contact ebola, especially if that hot and heavy feeling is from a fever. (And, frankly, we'd still be a little worried about lap dances.)
On a serious note, Goode wrote on Facebook that he would be isolating himself, and slammed the CDC for not doing more:
If we want to ensure this doesn't happen to more people, then I say we band together as a country and take responsibility. I don't want to scare people. I don't want to start a frenzy. I want to be solution oriented. I just want this to stop. To do that, it's going to take every single person doing their part.

At this point, my part is going to be isolating myself. But ask yourself, what is your part? I do NOT want you going through this! I still haven't been contacted further by the CDC and I'm not very confident in their abilities.

Whether it's private organizations or the government, everyone that has come in contact with someone that has Ebola should be quarantined. No questions. As a country this should be easy to raise enough money and find the manpower to provide for people that have possibly been infected.
[TMZ]
[Image via Ellora's Cave/Facebook]
—
>> Follow Tina Nguyen (@Tina_Nguyen) on Twitter
Have a tip we should know? tips@mediaite.com