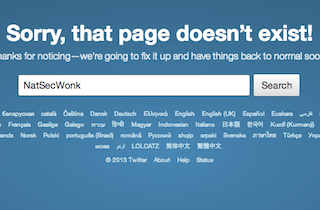 A crass and insulting Twitter account has been shut down after its author was revealed to be Jofi Joseph, a national security official for the White House, Daily Beast's Josh Rogin reported on Tuesday.
Joseph, who worked for the National Security Council's non-proliferation team, was fired last week following a drawn-out probe to discover the identity of @NatSecWonk.
The account, which was active for two years, tweeted vicious and snide comments about White House officials and foreign policy figures, including then-Secretary of State Hillary Clinton and Ben Rhodes. As Rogin pointed out, the tweet "Was Huma Abedin wearing beer goggles the night she met Anthony Wiener? Almost as bad a pairing as Samantha Powers and Cass Sunstein…" managed to insult "a top Clinton aide, a then Congressman, and two White House senior officials in one tweet."
The account also tweeted insider details about administration policy, all while Joseph maintained a high profile in the foreign policy community.
@NatSecWonk has disappeared from Twitter, but here's a sample (via):



"What started out as an intended parody account of DC culture developed over time into a series of inappropriate and mean-spirited comments," Joseph told Politico in an email. "It has been a privilege to serve in this Administration and I deeply regret violating the trust and confidence placed in me."
Politico's Glenn Thrush said he suspected Joseph was behind a second anonymous account, @DCHobbyist, which he described as full of "racier tweets about sexual encounters, escort services—and the inner workings of the State Department."
[h/t Daily Beast, Politico]
[Image via screengrab]
——
>> Follow Evan McMurry (@evanmcmurry) on Twitter
Have a tip we should know? tips@mediaite.com