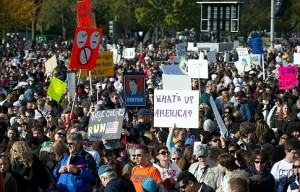 Jon Stewart and Stephen Colbert just opened their 'Rally To Restore Sanity and/or Fear,' and for many, the big question is "how many people are in attendance." While its far too early to know a real number, Comedy Central has estimated the crowd size to be between 400 million and 6 billion people. The permit application expected 60,000 participants, though Comedy Central also said they were providing enough portable toilets for 150,000. Sweet. Update: early and unofficial estimates are well over "200,000."
Update: For a more recent write-up of the crowd size at the Rally to Restore Sanity, check out How Many People Attended Jon Stewart's 'Rally For Sanity'?
By comparison, Glenn Beck's Rally To Restore Honor's crowd was estimated to be between 87,000 and 300,000, or as Glynnis MacNicol wrote in late August:
Thus far, the big question following yesterday's event appears to be how many people attended. Answer from the ground: a lot. Interestingly CBS is estimating the crowd at 87,000. NBC quoted the National Parks service which put it at 300,000. Based solely on my perspective from the ground and the fact I was in Washington for the Inauguration I would err on the side of NBC and the National Parks. But the discrepancy begs the question: how do you lose 200,000 people?
Jon Stewart opened the event by claiming that he sees over 10 Million people in attendance, while lauding the diversity of his crowd, adding "if your crowd is too white, then you are racist and if your crowd has too many people of color, you are asking for something." As estimates pour in, it seems that a number between 100k and 200k seems reasonable.
The show opened with a surprisingly earnest rendition of the National Anthem performed by the 4 Troops a quartet comprised of former Military members. Watch below.
Jon Stewart & Stephen Colbert Sing: 'It's The Greatest Strongest Country In The World':
Jon Stewart & Stephen Colbert Open The Rally Below:
Yusuf Islam (AKA Cat Stevens) And Ozzy Osbourne Battle At 'Sanity Rally'
Have a tip we should know? tips@mediaite.com
Colby Hall - Founding Editor