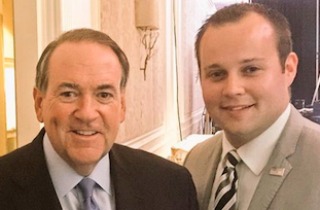 During an interview with Iowa radio host Simon Conway, Mike Huckabee was asked about how he could continue to stand by Josh Duggar of after he fell from grace after his child molestation scandal broke. Huckabee argued that he never actually defended the oldest son in the 19 Kids and Counting family, but rather the evangelical values the Duggars preached throughout their former show.
"I really didn't support Josh, I supported his parents, if you'll go back and look at what I said," Huckabee stated. "There's no support for what he did."
Following revelations that Duggar molested five young girls, including two of his own sisters, Huckabee prominently issued statements in defense of the family. At the time, Huckabee attributed the story's buzz to media sensationalism, argued that Duggar's actions were "inexcusable" but not "unforgivable," and that "good people make mistakes and do regrettable and even disgusting things."
Huckabee also commented that Duggar's further revelations proved his actions to be "despicable" and "dishonest," but argued again that the media exploited his family by grilling what they stood for with respect to him:
He did some things that totally defy everything he supposedly stood for. But he certainly defied what his parents not only have stood for, but continue to. So my support was for his sisters, who were the real victims, I felt like they were being exploited by the media… I've never defended Josh and I don't defend him now because there's nothing to defend.
[h/t Buzzfeed]
[image via Twitter]
— —
>> Follow Ken Meyer (@KenMeyer91) on Twitter
Have a tip we should know? tips@mediaite.com