Huge Turnout In Wisconsin Pokes Holes In Theory Money In Politics Is Bad For Democracy
Huge Turnout In WI Pokes Holes In Theory Money In Politics Is Bad For Democracy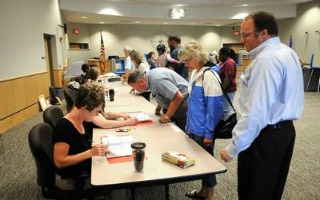 Reports from the ground in Wisconsin, where a contested gubernatorial recall election is coming to a dramatic close, suggest that voter turnout is unexpectedly high. In fact, it could approach record levels and is likely to be rivaled only by a presidential election. Turnout is beating expectation in both Republican-heavy areas of the state and in Democratic strongholds — this comes amidst a tsunami of outside dollars flooding the state with political ads. For those that equate political participation with democracy, this begs the question: are voters participating in this election in spite of this spending or because of it. If it's the latter, shouldn't Wisconsin's recall election poke a hole in the notion that money in politics is a universally bad thing?

RELATED: Progressive Pundits Lay Groundwork To Blame Obama If Wisconsin Recall Fails
Wisconsin's voters will determine today if Republican Gov. Scott Walker serves the remainder of his term or Milwaukee's Democratic Mayor Tom Barrett takes over. Even though this was a closely watched race with national implications, the record participation for a special election has stunned many observers.
The Huffington Post notes that the Wisconsin Board of Elections is reporting that between 60 and 65 percent of the electorate could come out for today's recall election – or between 2.6 and 2.8 million voters. In 2008, 69.2 percent of the electorate came out for the presidential race compared to only 49.7 percent for 2010's midterm elections.
Milwaukee Journal-Sentinel reporter George Hesselberg tweeted this today about turnout in the city of Madison:
Madison clerk Maribeth Witzel-Behl says: typical that percent at 11 a.m. doubles by 4 p.m., doubles again by 8 p.m. could mean 76 % turnout.

— George Hesselberg (@GHessWSJ) June 5, 2012
The Milwaukee Journal-Sentinel reported at 12:07 p.m. CST that extra poll workers had fanned out across the city amid heavy voter turnout:
Extra poll workers were sent to polling places at Becher Terrace, Bradley Tech High School, Keenan Health Center, Morse Middle School, Rufus King International School Middle Years Campus and Cass Street, 53rd Street, Grantosa and Parkview schools, said Sue Edman, the election commission's executive director.
Madison and Milwaukee, Democratic strongholds populated by higher concentrations of state and federal workers as well as traditional progressive voters, are turning out in droves to cast votes in this recall election. In 2010, with both Walker and Barrett hailing from Milwaukee, Barrett trounced Walker with 62 to 38 percent.
How can this be possible? For weeks, progressives have lamented that polls which showed Walker would likely survive the recall was the result of massive sums of out-of-state money from Republican interests. That money, we were told incessantly, subverted the democratic process.
Today, however, as it appears that turnout is bursting at the seams of expectations, progressives have conveniently ditched that narrative.
Even the liberal blog Daily Kos has stopped bemoaning big money and started praising big turnout forecasts.
State elections officials predicted that between 60-65 percent of eligible voters would turn out. We need that number to be around 65-70 percent to win. Conservatives will turn out in droves. There's no doubt about it. The question is whether our side will as well, because there's more of us than there is of them.

With Madison coming on strong, it's all about Milwaukee.
Could it be that the nearly $64 million that was spent in this state since the fall of last year actually raised awareness among voters and helped GOTV? Is it possible that ad spending informed voters of the stakes of the race and the terms that each candidate set which would serve as their mandate should they achieve victory?
Contrary to conventional wisdom, it appears as though the money spent on this race furthered the democratic process by increasing voter participation.
For those that view participation in elections as an end in itself, how can one reconcile high turnout with high spending? Well, for those committed to the notion that money in politics serves only entrenched interests — which they tend to define as being contrary to their own — it requires amending their view of spending in elections.
With the vast majority of funds being spent on the Republican side of this race, those who suggest that money is directly proportional to electoral success should see depressed turnout in regions dominated by Democrats. This has not been the case.
I do not expect those who genuflect at the altar of public financing of elections to revise their views, but the most intellectually honest of the true believers should acknowledge that events in Wisconsin warrant giving that theory a second look.
Whoever achieves victory in today's recall election, the turnout will provide them with a very real mandate.
If Walker wins, his opponents who continue to say that they were outspent and could have won if only more money was on their side will have to contend with a popular vote total for Walker that surpasses his victory in 2010.
If Barrett wins, Democrats who insist spending is equal to votes will be confronted by contradiction that somehow their man won despite being outspent 7 – to – 1.
No matter who wins tonight, the myth that money is the enemy of democracy will suffer a mortal wound after today's recall election. And that is good for everybody.
Follow Noah Rothman on Twitter
Have a tip we should know? tips@mediaite.com