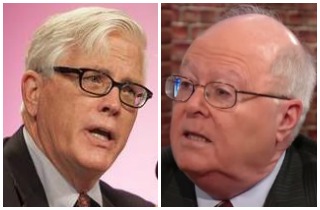 Radio host Hugh Hewitt gave Catholic League head Bill Donohue an earful on his show today when he absolutely pilloried him for his "morally offensive" stance on the Charlie Hebdo killings. Donohue said yesterday that "Muslims are right to be angry" over the provocative cartoons, and that the publisher of Charlie Hebdo played a role in his own death.
Hewitt found these sentiments, needless to say, pretty offensive and disgusting itself, and confronted Donohue today. Think of every adjective synonymous with "appalling" and that was all basically what Hewitt told Donohue what he thought of his victim-blaming. Hewitt said that Donohue's sentiments are "deeply embarrassing to me as a Catholic."
He challenged Donohue to name one other Catholic archbishop or cardinal who agrees with him. Donohue provided one name, Raymond Arroyo, and Hewitt promised he'd be reaching out to Arroyo immediately.
Much of their conversation centered around another mind-boggling statement Donohue released today, in which he argues that free speech does not extend to "obscene portrayal of religious figures" and that "no fair-minded reading of the Preamble suggests that it was written to facilitate the right to intentionally and persistently insult people of faith with scatological commentary."
Hewitt, after really telling off Donohue for blaming the victims of a horrible attack before their bodies were cold, challenged him on whether he wants to see people killed or arrested if they dare mock the faith he belongs do. Donohue spoke of self-censorship, but did not directly answer Hewitt's question of what if, oh, say, they didn't self-censor and decided to mock religious figures.
When Donohue said "I'm not gonna take lecturing," Hewitt said, "You do need a lecture. You do not understand the First Amendment. You have no clue what an embarrassment you are to Catholics."
He accused Donohue of providing propaganda to Islamic extremists in saying the publisher played a role in his death and repeatedly told him he wants to show people that "you represent nothing and no one in the Catholic Church."
Listen to the full showdown below, via The Hugh Hewitt Show:
[image via screengrab]
— —
Follow Josh Feldman on Twitter: @feldmaniac
Have a tip we should know? tips@mediaite.com
Josh Feldman - Senior Editor