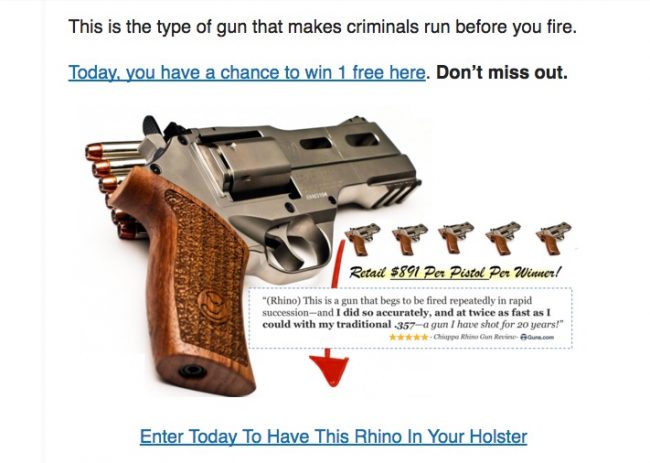 An email blast from TheBlaze let the Mediaite staff know that there is still a giveaway out there we haven't entered! (Everyone loves giveaways, you know?)
This one is for — hold on, let's refer to the source material here — the Rhino .357 pistol, which the email helpfully describes as, "the type of gun that makes criminals run before you fire."
One would assume that all guns make people run, but apparently the Rhino .357 does it better than others. Fortunately, the conservative media company is giving away five of them.
Unfortunately, the email doesn't really say anything about delivery or any restrictions. Is Glenn Beck sending the guns to winners via UPS? Can any-old-body just win a gun that makes supposed criminals run away from them? Can felons? Can the mentally ill? Can people on no-fly lists? Is there some kind of background check process that goes along with this type of giveaway or are we going to start stuffing the pistols into t-shirt canons and launch them into the crowd during halftime at Madison Square Garden?
If a person clicks the link in the email, they will be taken to the contest page, which is on the Concealed Network's website. All the way at the bottom, there is a link to "contest rules." It's there that the Concealed Network makes it known that the contest is open "to legal residents of the United States and the District of Columbia, 21 years of age or older at the time of entry, who can legally own a gun."
Oh, wait. One more thing! It also says this:
The Concealed Network is NOT shipping firearms or ammo as part of this contest. 5 winners will receive a check for $$891 to purchase the gun of their choice. No combinations. No substitutions.
As it turns out, an email from TheBlaze that appeared to be offering up free guns was actually an ad from a third-party contest site offering checks for the value of a gun. We would accuse Beck's site of false advertising, but they already have enough legal trouble, so we'll leave it alone.
We've reached out to TheBlaze for comment on the partnership with TCN, but for now, we just want to say we hold no ill will toward any blog or publication that takes the "sponsored content" route. It's hard out here! Besides, this is a great case study in the division between the "two Americas." To East Coast liberals and press members, the idea of free deadly weapons is strange and borderline offensive. To TheBlaze's advertisers, though, it's a valuable money-making strategy. To their subscribers, it's just an old-fashioned good deal.
[image: screengrab]
Have a tip we should know? tips@mediaite.com