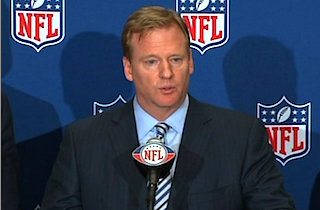 Former FBI Director Robert Mueller, who was tapped to lead an independent investigation into how the NFL handled evidence in the case of former Baltimore Ravens running back Ray Rice, released the long-awaited report on Thursday. It found that NFL Commissioner Roger Goodell and other NFL executives did not, as critics charged, see the infamous video showing Rice punching his then-fiancée and now-wife Janay Rice before handing Rice a 2-game suspension that Goodell later admitted he got wrong.
Despite a report from the Associated Press last September that claimed a law enforcement official sent a copy of the surveillance video to the NFL in April, Goodell maintained that he and his colleagues were denied the opportunity to see the video, which was first released publicly by TMZ in September. In addition, the report found that a woman at the NFL did not acknowledge receiving the video in a voicemail message, as the AP report also claimed. Mueller's report seems to vindicate Goodell and substantiate his claims.
Mueller said the following in a press release:
"We found no evidence that anyone at the NFL had or saw the in-elevator video before it was publicly shown. We also found no evidence that a woman at the NFL acknowledged receipt of that video in a voicemail message on April 9, 2014.

We concluded there was substantial information about the incident –even without the in-elevator video – indicating the need for a more thorough investigation. The NFL should have done more with the information it had, and should have taken additional steps to obtain all available information about the February 15 incident."
You can read the full report here, as well as the much shorter executive summary.
[Image via screengrab]
— —
>>Follow Andrew Desiderio (@forza_desiderio) on Twitter
Have a tip we should know? tips@mediaite.com