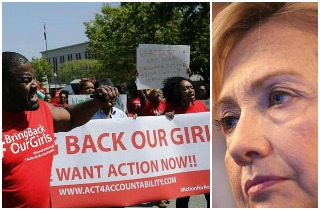 While it is somewhat belated, the press and the American government should be congratulated for waking up to the barbarisms performed with disturbing regularity in Nigeria. Following the slaughter of hundreds, including children, the fundamentalist militant group Boko Haram has finally earned front-page status after capturing 300 young girls and threatening to sell them into slavery.
Outrage over the group's actions on social media and in the Western press has forced the American government to pressure Abuja into accepting military, logistical, and intelligence aid. American lawmakers who are normally averse to the profligate use of American military power are advocating drone strikes. Secretary of State John Kerry is foreshadowing future allied military operations against this organization. Overnight, Boko Haram has become public enemy number one.
Speaking at an event in New York, former Secretary of State Hillary Clinton joined the chorus of condemnation, calling the actions "abominable, criminal," and "an act of terrorism." She added that the Nigerian government has been "derelict" in its duty to protect its citizens from the threat of terrorism. But that threat has evolved to one far more pressing and grotesque than it was in prior years, and it now may necessitate the deployment of American military equipment and personnel to neutralize.
If American blood and treasure are to be expended in Nigeria, the American public is due a full examination of how we got to this point. It's an examination that Clinton probably hopes the media does not perform all that thoroughly.
In an eye-opening Daily Beast report, Josh Rogin reveals that Clinton's State Department repeatedly refused to designate Boko Haram a foreign terrorist organization. According to Rogin's sources, that refusal may have limited America's ability to degrade the operational capabilities of this militant group.
"The refusal came despite the urging of the Justice Department, the FBI, the CIA, and over a dozen senators and congressmen," Rogin reported. And, apparently, Clinton is not insulated from direct criticism for State's dithering:
"The one thing she could have done, the one tool she had at her disposal, she didn't use. And nobody can say she wasn't urged to do it. It's gross hypocrisy," said a former senior U.S. official who was involved in the debate. "The FBI, the CIA, and the Justice Department really wanted Boko Haram designated, they wanted the authorities that would provide to go after them, and they voiced that repeatedly to elected officials."
Being listed as a terrorist association allows the United States to use a variety of military, intelligence, and financial tools to isolate that organization. State's refusal to apply this designation to Boko Haram, a group that had and maintains ties to al Qaeda, may have allowed them the space to grow into a greater threat to regional security.
RELATED: Why Did Kidnapping Girls, but Not Burning Boys Alive, Wake Media Up to Boko Haram?
Clinton defenders say that not designating this organization as a terrorist group was a strategic decision. "There was a concern that putting Boko Haram on the foreign terrorist list would in fact raise its profile, give it greater publicity, give it greater credibility, help in its recruitment, and also probably drive more assistance in its direction," Assistant Secretary of State for African Affairs Johnnie Carson said Wednesday in a press call.
But Carson was not as vocal an opponent of calling Boko Haram a terrorist group when testifying before lawmakers. In 2012, with more than 1,000 deaths attributable to their actions, State designated three of Boko Haram's leaders "specially designated global terrorists" (SDGTs), but stopped short of calling the organization they head a terrorist group. In spite of State's hesitation, when pressed, Carson admitted Boko Haram was, indeed, a terrorist organization.
"Before we prescribe actions, it is important that we understand what Boko Haram is and what it is not," he said, noting that the United States' information on the group was "limited at best." When pressed by Rep. Chris Smith (R-NJ) as to whether he considered the group an Islamist terrorist organization, Carson said he did.
"Boko Haram's emergence as a terrorist organization in Nigeria predates the current government," Carson asserted.
State's refusal to designate this group a terrorist organization has been a subject of consternation for several years. The implication that State refused to act when it could have made a difference will necessarily have political implications for Clinton should she decide to run for president in 2016.
Of course, the usual suspects will emerge to declare this yet another illegitimate line of questioning about Clinton's past. The history of how State handled Boko Haram may soon become, as CNN host S.E. Cupp aptly put it, just one more entry in the "whole list of things" that are scoffed at by journalists or deemed conspiratorial by our self-appointed arbiters of political discourse. But that is projection motivated by politics.
State's lethargic response to the threat posed by Boko Haram under Clinton demands investigation. If we are going to have a national conversation about how to deal with this cast of devils performing unspeakable atrocities in Nigeria, it is critical we learn why this cancer was allowed to metastasize. Indeed, it would be irresponsible of those urging action today to close their eyes to how we got here in order to protect a political figure.
[Image via Gary Cameron/Carlo Allegri/Reuters]
— —
>> Follow Noah Rothman (@NoahCRothman) on Twitter
Have a tip we should know? [email protected]