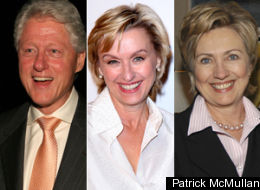 Just two weeks ago Tina Brown made some significant waves with her Daily Beast column about Hillary Clinton's invisibility as Secretary of State. The meme got picked up far and wide, and Hillary herself spent much of that week — the same week she hastily scheduled a major foreign policy speech — defending her relevance as Secretary of State. Last Sunday she did the full hour on Meet the Press.
Today, another Tina Brown column landed in our inbox. This one is titled "Obama Needs Bubba" and in it Brown opines that the person Obama should turn to right now to help push his embattled health care program through is none other than former President Bill Clinton.
If Obama has lost his customary ability to synthesize, perhaps he should turn for help to that great ol' explainer William Jefferson Clinton. Surely it's the former president who got it wrong once who has spent the most time and lost the most sleep thinking over how he would do it again.
Smart idea. (It certainly seems like Obama et al. could use all the help they can get right now). But two Clinton columns in almost as many weeks also jogged our memory: Isn't Tina Brown penning a book on the Clintons? Why yes, yes she is. From the Times announcement back in January of 2008:
Tina Brown…has signed with Doubleday Broadway Publishing Group to write a portrait of the Clinton era,The Clinton Chronicles," in an echo of "The Diana Chronicles," her best-selling book about Diana, Princess of Wales. The new book, scheduled for publication in 2010, will cover the lives of Bill and Hillary Clinton and also reflect on the social and political contexts of their rises to power.
Using a column to formulate thoughts on a book you are writing is not a new thing. At all. Tom Friedman spent half a year talking about recycling cabbies in India before pubbing Hot, Flat, and Crowded. However, there appears to be something more interesting than just a writer fleshing out their thesis going on in these recent Clinton-themed pieces by Brown. She's not so much talking about the Clinton era so much as bringing it to renewed relevance in the here and now.
The boost seems to be working: Judging from the reaction to her 'Invisible Hillary' column, it looks like she has the chops to do it. Is she hoping to keep them in the current narrative in order to keep her book in the narrative? Or to further define herself as the expert on all things Clinton leading up to the book's 2010 pub date? If Bubba suddenly becomes head of the health care morning show task force, we'll know she's on to something.
Image via.
Have a tip we should know? tips@mediaite.com