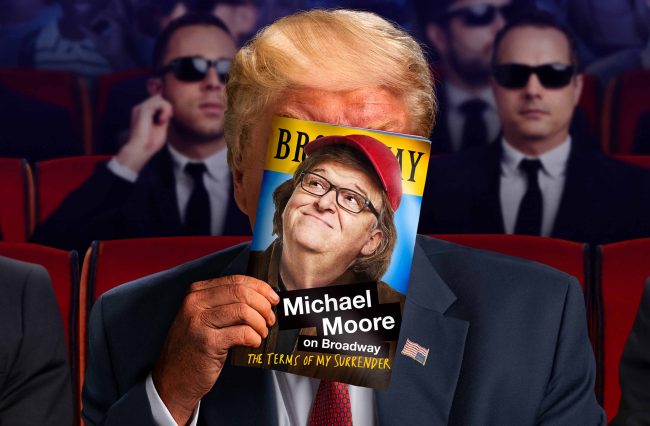 It hasn't been a good day for Michael Moore.
Yes, the reverberation of Donald Trump Jr. owning his ample ass on Twitter is still being felt with each successive re-tweet as the left-wing provocateur flailed wildly in his attempt to politicize Hurricane Irma, but that's not even the worst part of Moore's miserable Monday.
No, Moore's awful day was really destroyed when he saw the weekly grosses for his one-man Broadway show and realized how thoroughly he has been rejected by the New York theatre audience.
This week's figures won't be made public for another couple days… but we hear it's pretty ugly.
According to Broadway World's reporting of the weekly gross receipts for the run of the limited engagement production,"The Terms of My Surrender" is in a downward spiral with numbers consistently at less than half of the show's potential:
People in the Broadway industry are taking note of the paltry sales and whispers are already circulating that the numbers for the week ending September 10th will put the show in the sub-$275,000 range which is… really, really bad.
With the cost of theatre rent, advertising, salaries and fees, the show is losing money, Bigly.
It's pretty clear: Broadway (like much of America) hates Michael Moore.
It was bad enough that the sainted (and politically like-minded) New York Times eviscerated his "shaggy and self-aggrandizing Broadway showcase"  at the Belasco Theatre. Remember how bad that review was?
Still, you don't have to disagree with Mr. Moore's politics to find that his shtick has become disagreeable with age. "The Terms of My Surrender," which opened on Thursday at the Belasco, is a bit like being stuck at Thanksgiving dinner with a garrulous, self-regarding, time-sucking uncle. Gotta love him — but maybe let's turn on the television.
But there was one line from Jesse Green's incredibly entertaining take-down of "The Terms of My Surrender" that was quite inaccurate and at the same time foretold the paltry box office returns that are dragging Moore down today. Before ripping the heart out of the show in his blistering pan, Green wrote of Moore, "There's little he's against that most theatregoers are for."
Really?
So most theatregoers are left-wing, anti-capitalist agitators who think Republicans are racist war-mongers?  Last time I checked Times Square, most of the theatregoers I saw were families visiting New York from red states that routinely choose politicians Moore abhors. They also gladly see incredibly entertaining and non-political shows such as Phantom of the Opera, Chicago, Les Miserables... you know, all the shows that have run for decades and broken world-wide box office records.
Which brings us to the reason Mr. Moore's exercise in narcissism is hemorrhaging money and playing to more-than-half-empty houses.
When you open a show in New York in Summer you're going to need the tourists to buy your tickets. Moore's core ticket-buyers are enjoying themselves in the Hamptons or Martha's Vineyard or Lake Como… and they never pay for their tickets, anyway.  Moore is trying to sell tickets each night to people he openly hates and mocks whenever given the chance. Why would anyone shell out a hundreds of dollars for that kind of treatment?
Theatregoers want to be entertained, enlightened, moved and inspired. They do not want to be ridiculed and insulted. And that's exactly what Moore has done his entire career.
Respect the second amendment? Moore thinks you're a nut.
Think the real villain on 9/11 was Osama bin Laden? Moore thinks you're naive.
Think you'd rather get treated for an illness in America rather than Cuba? Moore thinks you're evil.
Think capitalism is better than socialism? Moore thinks you're ruining America.
But hey, if give him $150 bucks, he'll take you out for a free hot dog after the show. That'll fill the mezzanine.
Please, someone put this show out of its (and our) misery.
This is an opinion piece. The views expressed in this article are those of just the author.