James Franco: Weird to See 'Right-Wingers' Newt and Romney Support The Interview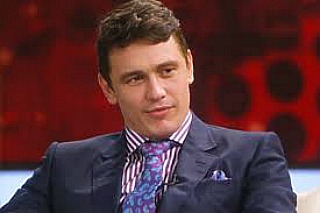 James Franco was surprised to see some conservative icons so willingly support The Interview late last year, despite constantly demonizing Hollywood and having never seen the film itself.
For those who somehow don't remember: The comedy starring Franco and his director Seth Rogen was entirely about a U.S. plot to assassinate North Korean dictator Kim Jong-un. Some highly-paid (presumably in years allowed on their lives) North Korean geeks hacked Sony Pictures in retaliation, threatened an attack on U.S. theaters, and effectively shut down the movie for some time.
In excerpts of a conversation published Monday at The Daily Beast, the famed actor/director/poet/teacher/pillow-lover Franco explained his "weird experience" dealing with Interview-related hysteria.
Among the oddities: Despite their well-known resentment towards Hollyweird Liberals, Franco noticed many conservatives blindly supporting his film for a variety of reasons:
"It's funny to see all the different reactions, and the way they also changed," Franco told The Daily Beast. "At first, it was as if all of Hollywood was under attack and we're representing Hollywood, and then you have these right-wingers coming out and saying, 'Go see this movie!' Newt Gingrich and Mitt Romney are saying, 'Go see this movie!' without having even seen it themselves, just because."
Another interesting nugget: "[I]t's a genuinely funny movie, but the older crowd also had these weird expectations that it would be Zero Dark Thirty or something, when I think what Seth and Evan did—which was great—was blend their normal, genuinely funny comedy with a subject that is pretty serious."
More here.
[Image via Columbia Pictures]
— —
>> Follow Andrew Kirell (@AndrewKirell) on Twitter
Have a tip we should know? tips@mediaite.com