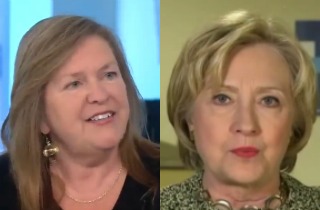 Despite the frosty relationship between the two campaigns at the moment, prospective First Lady Jane Sanders said last night that she and her husband, independent Vermont Senator Bernie Sanders, will support Hillary Clinton if she actually manages to defeat Bernie in the race for the Democratic presidential nomination.
With the mudslinging and questioning of their qualifications for the presidency, things have been hot between both sides lately, even with their relative truce in recent days. Mrs. Sanders has been a part of this as well, but in an interview with The Daily Beast, she expressed hope that the eventual nominee will receive their rival's approval, as well as the support of their voter base.
Despite her efforts to smooth things over, Sanders did strike out and say that the superdelegate system is giving an edge in a similar sense to the one Donald Trump has been blasting primary processes over recently. Though she elaborated on the campaign's plan to win them over to their side, Mrs. Sanders said she felt that the superdelegate process, and rules locking independent voters out of the primary elections, were subverting her husband's effort to revitalize the field.
"We are bringing many, many more people in across the country and yet in New York they're slamming the door on those people. They can't have a voice. That seems counterproductive to what the Democratic Party wants to accomplish in terms of winning not just the presidency, but to win governors' seats and seats in the House and Senate."
[Image via screengrab]
— —
>> Follow Ken Meyer (@KenMeyer91) on Twitter
Have a tip we should know? tips@mediaite.com