Jeb Bush's Son Calls On Mitt Romney To Play Bigger Role In Immigration Debate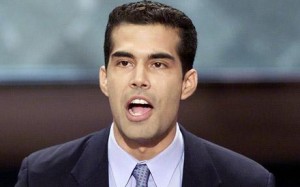 George Prescott Bush, the oldest son of former Florida governor Jeb Bush, said today that Mitt Romney needs to take more of a leadership role in the immigration debate and the Republican Party in general needs to work together with Democrats to come up with an "honest solution to the immigration problem."


RELATED: A Frustrated Soledad O'Brien Fails To Get An Immigration Policy Out Of Romney Adviser
Speaking to reporters today, Bush credited President Obama for "tak[ing] the initiative" on immigration reform with his executive action last month, and said Romney missed an opportunity to "get in front of the president on the issue." The New York Times notes that Republicans have been conceding Obama's action will inevitably help him with the Hispanic vote in this close election season, and Bush acknowledged today the Republicans have to step up their game on this issue.
Mr. Bush, who was on a trip to Washington to promote his political action committee, told reporters over breakfast that the Republican Party needed to broaden its outreach to younger voters and search for an "honest solution to the immigration problem." He said both parties should commit to a bipartisan plan that recognized a "need for labor in our country and the need of enforcing, for purposes of national security, our immigration laws."

Like his father, Mr. Bush is a fluent Spanish speaker who has been an outspoken advocate for overhauling the nation's immigration laws. His mother, Columba Bush, was born in Mexico.

"Regretfully, this has become an issue that has ended and created political careers," Mr. Bush said. He added, "This is such a complicated question, it's not going to be solved by one party alone."
And following his claim last night on CNN that his father is not being vetted by the Romney campaign as a potential vice president, Bush said today that he personally would consider entering politics at some point, but he doesn't have an "overwhelming urge" to pursue it at this point in his life.
h/t NY Times
—–
Follow Josh Feldman on Twitter: @feldmaniac
Have a tip we should know? tips@mediaite.com
Josh Feldman - Senior Editor