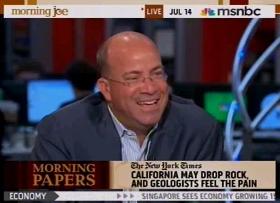 Last week we introduced you to probable CNN host Piers Morgan, looking at his history as an interviewer on British TV.
This week it's looking even more probable – and now NBCU President and CEO Jeff Zucker is weighing in on Morning Joe.
Joe Scarborough caught his boss' boss' boss off-guard this morning, saying, "Jeff, let me ask you about Larry King going away, apparently an NBC talent is going over to replace Larry King, maybe."
After some awkward chuckling, here was Zucker's response (our emphasis added):
Piers Morgan is an incredibly important talent who is one of the judges on America's Got Talent, which is the most successful television show in America right now, has been for several summers. Piers will continue on America's Got Talent for the next three years, so that I can tell you. Having said that, I can also tell you he has approached us about asking us to do another job as well and those conversations are continuing. I don't think they're mutually exclusive.
So, a couple things. First, we've got to give some dap to Scarborough for asking the question and putting Zucker on the hot seat. Secondly, Zucker's implication is that Morgan will definitely remain on America's Got Talent but is interested in the CNN job and is now in, what sounds like, negotiation for how to shuffle both roles. They are not "mutually exclusive" – so he can, and might, do both.
More on that in a second. The reason this story has bubbled up again is because of a series of stories yesterday about the imminent nature of Morgan's CNN deal, with it potentially coming by the end of the week. The New York Times reports these details:
NBC signaled that it was willing to share Mr. Morgan with CNN. That decision frees Mr. Morgan to negotiate directly with CNN, and according to three people involved in the delicate maneuvering between the companies, a contract could be signed within a few days…The main action has not directly involved CNN. It is taking place quietly between executives from NBC Universal and Turner Broadcasting, a unit of Time Warner. These talks centered on whether Turner had something to offer NBC Universal…One protection NBC secured in the apparent deal is that "America's Got Talent" would be the priority for Mr. Morgan in any potential scheduling conflict with his role on CNN.
I've written here that Morgan has the potential to be a great choice for CNN – he's a strong interviewer, who asks tough questions, and British imports have generally been hugely successful when brought to American TV. It worked for American Idol and The Office – why not Larry King and CNN? But the idea that Morgan will be 'shared' by CNN and NBC adds a new wrinkle to the potential move. And if the NYT is right, that Morgan's "priority" would be America's Got Talent over, say, a news-making, breaking news interview, that should weaken the appeal for CNN.
We'll have more on Morgan this week, regardless of whether an offer is in place or not. Here's Zucker on MSNBC this morning:


—–
» Follow Steve Krakauer on Twitter
Have a tip we should know? tips@mediaite.com