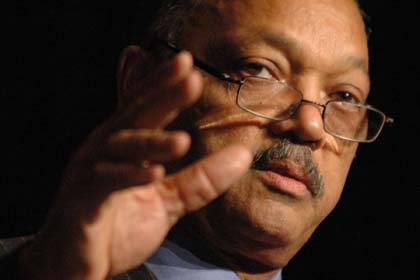 Buried in the ninth paragraph of a Glenn Thrush story in POLITICO previewing President Barack Obama's Wednesday address at the Lincoln Memorial to mark the 50th anniversary of the civil rights movement's march on Washington D.C. is a doozy of a quote. Thrush spoke to a variety of black civil rights leaders to gauge their thoughts on how Obama will tackle the most pressing issues facing the black community today. Apparently, according to Rev. Jesse Jackson, the biggest problem facing African-Americans today are conservatives – specifically, the tea party, which Jackson directly equates to the confederacy.

"The tea party is the resurrection of the Confederacy, it's the Fort Sumter tea party," Jackson told Thrush after saying that he "absolutely" believes Republicans oppose Obama strictly because the president is black.
RELATED: Fox's Kirsten Powers: Does Jesse Jackson Have to Comment on Every Crime in the Country Now?
"Republicans vehemently refute such accusations," Thrush continues. "And none of the half-dozen top Obama aides interviewed for this article and others over the past few months say they have ever heard the president suggest race is a factor in GOP opposition, even though he has repeatedly said publicly that he thinks his opposition reflexively blocks his policies because his name is associated with them."
In other words, even the Obama administration believes Jackson is engaging in the cheapest form of scapegoating, speaking only to a narrow subset of true believers. They add, however, that they do not directly speak for the president on the matter.
h/t Weasel Zippers
—
> >Follow Noah Rothman (@NoahCRothman) on Twitter
Have a tip we should know? tips@mediaite.com