Jesse Watters Went to Chinatown and Made What Might Be His Most Outrageous Video Yet
For this post, let's start at the end of the segment.
Upon seeing Jesse Watters' new video, Bill O'Reilly said, "I know we're going to get letters. It's inevitable." Even without having seen his latest Watters' World clip, anyone with some level of familiarity with his previous work would be able to guess that letters are "inevitable" whenever he airs something new, but this time, he did something truly next-level.
Would you like to see the video O'Reilly just knows Fox News is going to get letters about? Here you go:
Yeah, Watters went to Manhattan's Chinatown to ask people what they thought of the election. His reasoning for going there seems to have been that Donald Trump has mounted a sustained attack against, as the GOP nominee puts it, "Chy-nah."
There are a lot of stereotypes and generalizations to work through here from the jump, starting with Watters asking two Chinese Americans if he should bow before addressing them. It continued just like that as he asked others to demonstrate karate, teach him to say phrases in Chinese, and give him herbs "for performance." On at least two occasions, he was very clearly speaking to someone who wasn't keeping up with his English, but he still kept those parts in his final cut. Why? Well, watch it again and see what effect you think he was going for when he edited in a movie clip that said, "Speak, why don't you, speak!" after interacting with someone who looked more confused and overwhelmed than reticent and mysterious. Everyone interprets these things differently, right?
Well, yes and no. Plenty of people on the original YouTube posting of the clip have interpreted it the same way. It currently has 581 down-votes and 184 up-votes. Most of the comments look like this: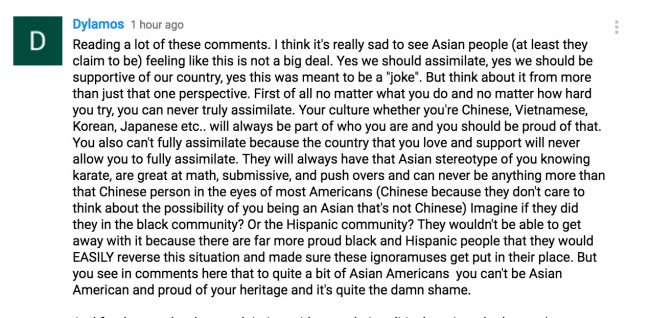 Debates are raging in the comments over whether the video is truly offensive and some commenters are even claiming to be Trump-voting Asian Americans who see nothing wrong with how Watters comported himself in Chinatown.
It's clear, however, that there is more offense than nonchalance and that O'Reilly was very right about the letters.
UPDATE –– 5:37 pm ET: Watters has addressed his comments on Twitter. More here.
[image via screengrab]
This is an opinion piece. The views expressed in this article are those of just the author.