Joe Biden Reportedly Leaked Son's Dying Wish to Help Launch Potential Campaign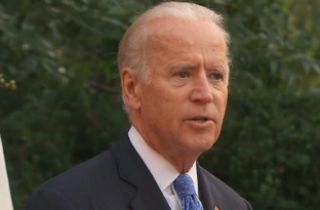 The death of Beau Biden, a promising Democratic politician and the son of Vice President Joe Biden, was a tragedy that struck one of America's top political families this Spring. In a Maureen Dowd column shortly after, she gave an exclusive and emotional look into Beau Biden's final moments:
"Dad, I know you don't give a damn about money," Beau told him, dismissing the idea that his father would take some sort of cushy job after the vice presidency to cash in.

Beau was losing his nouns and the right side of his face was partially paralyzed. But he had a mission: He tried to make his father promise to run, arguing that the White House should not revert to the Clintons and that the country would be better off with Biden values."

Hunter also pushed his father telling him, "Dad, it's who you are."
It's a heartbreaking scene, and one that single-handedly launched months of speculation about whether Joe Biden would honor his son's dying wished and run for president.
It was also, according to reporting from Politico, leaked by Joe Biden himself.
Politico's Edward-Isaac Dovere depicts the move as a politically savvy one intended to start a conversation. "It was no coincidence that the preliminary pieces around a prospective campaign started moving right after that column," he writes. "People read Dowd and started reaching out, those around the vice president would say by way of defensive explanation. He was just answering the phone and listening. But in truth, Biden had effectively placed an ad in The New York Times, asking them to call."
Dovere reports that before and since the Dowd column, Biden has told the same story to many friends with changing details. But the story leaked to Dowd is the only retelling where Beau's dying wish supposedly had an anti-Hillary Clinton tinge to it.
While Biden is genuinely grieving his son's death, Dovere continues, he is also obsessively weighing the pros and cons of a presidential race. "Calculation sort of sounds crass, but I guess that's what it is," one source told him. "The head is further down the road than the heart is."
[Image via screengrab]
——
>>Follow Alex Griswold (@HashtagGriswold) on Twitter
Have a tip we should know? tips@mediaite.com