Josh Earnest Defends Obama Skipping Scalia Funeral: Critics Using It as 'Political Cudgel'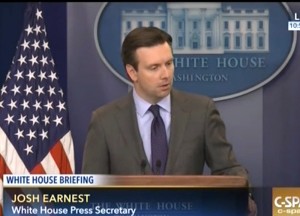 Things got hot for Josh Earnest as he faced questions over President Obama's decision not to attend Justice Antonin Scalia's funeral at today's press briefing.
Conservative media and other figures have taken President Obama to task for his plan not to attend the Saturday funeral, and said he would have done so for a liberal-leaning justice. When Earnest was asked about this, he reminded reporters that Obama plans to pay his respects at Scalia's wake at the Supreme Court on Friday, and defended the arrangement as "respectful and appropriate":
"Like thousands of Americans, not all of whom agree with Justice Scalia's view of the law, they do agree that his service to the country and his service to an institution that is critical to our democracy [and] warrants special attention, and the president will pay his respects."
Upon further pushback, Earnest said that Obama has already spent a great deal of media time paying tribute to Scalia's life and judicial service, and that Vice President Joe Biden would represent the administration at the service. Earnest then adopted a stronger tone, saying it was disrespectful of Obama's critics to use Scalia's death against him, given the tributes he's already paid the late justice.
"There's so much rancor and politics and partisanship that we allow ourselves to get drawn into different corners to the extent that some people actually want to use the funeral of the Supreme Court justice as some sort of political cudgel," Earnest said.
Watch above, via C-Span 3.
[Image via screengrab]
— —
>> Follow Ken Meyer (@KenMeyer91) on Twitter
Have a tip we should know? tips@mediaite.com